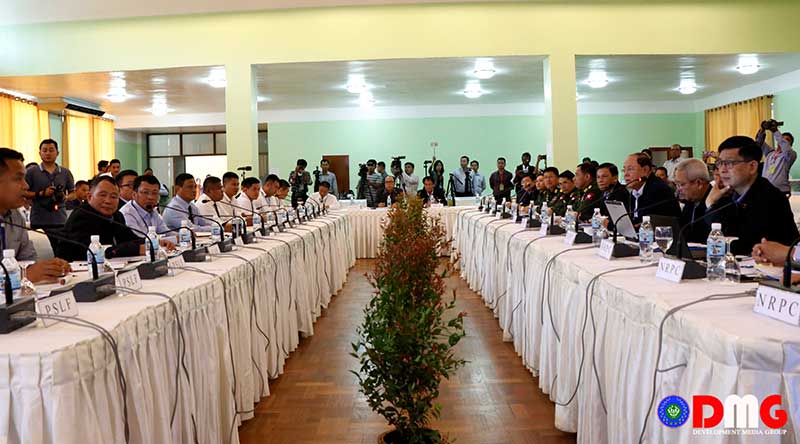 Aung Htein | DMG
25 January 2021, Sittwe
The Northern Alliance — a military coalition comprised of four ethnic armed groups including the Arakan Army (AA), the Kachin Independence Army (KIA), the Myanmar National Democratic Alliance Army (MNDAA) and the Ta'ang National Liberation Army (TNLA) — is still in the process of negotiating a government peace offer proffered earlier this month.
"The government has made the offer, but leaders of the four groups are still holding negotiations among them. I don't know the details," TNLA spokesman Major Mai Aik Kyaw told DMG. 
The government reportedly sent the drafts of preliminary bilateral ceasefire agreements to the Northern Alliance members on December 16. 
President's Office spokesman U Zaw Htay said at a press conference in Naypyitaw earlier this month that the government would hold separate peace talks with each of the four groups. 
The talks will focus on the issues of troop deployments, internally displaced people (IDPs), regional development, and the holding of elections in places where voting was cancelled in November, said U Zaw Htay, adding that the government would seek to reach a concrete agreement with the armed groups for a permanent ceasefire. 
The Northern Alliance is also supportive of and looking forward to negotiation, said Maj. Mai Aik Kyaw.  
"The position of all the members of the Northern Alliance from the very beginning has been that we believe dialogue is the answer to stop the fighting. We are ready for dialogue. This has been our stance from the very beginning, and it remains the same," he said. 
The government has proposed meeting the four groups either in Kachin State's Myitkyina or Shan State's Kengtung. 
The guns have fallen silent in Arakan State for some two months; since Myanmar's military and the Arakan Army apparently agreed to an unofficial ceasefire after the latter's request that elections be held in parts of Arakan where voting was canceled in November. 
Some IDPs have since returned to their homes to work farmlands, but the majority remain at displacement camps, and are calling on the government to ensure their safe return to places of origin.