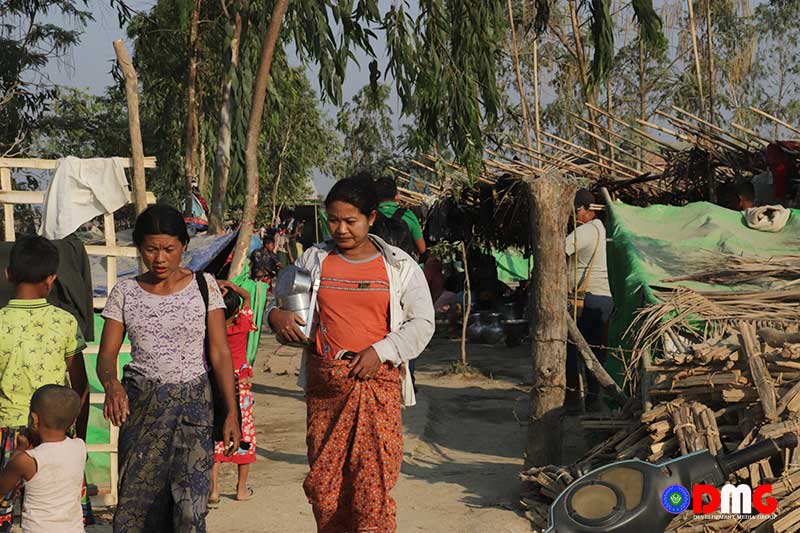 Nyan Hein | DMG
25 January 2021, Sittwe

The internally displaced people (IDPs) taking shelter in an IDP camp at No. 3 primary school in downtown Rathedaung, Arakan State, are struggling to meet basic needs such as food, accommodation and healthcare, according to aid workers and camp officials.

Some residents who have fled from Ngasaraichaung village in Rathedaung Township are currently taking refuge at No. 3 BEPS, and they were forced to evacuate on January 16, making it difficult for them to live, said Ko Bekka, who assists the IDPs.

"Now that the schools are about to reopen and the IDPs have to move, we are also looking for a place for them and we have many difficulties. We are currently looking for land to house the IDPs," he told DMG.

There are 17 households in the camp, with a population of more than 40 IDPs, said Ko Zaw Lin, an in-charge of the camp.

"If we have to get out of here, we have no place to live. Currently, the school is not open, so we can still live here. We have a lot of difficulties, even though we were asked to leave today," he told DMG.

The IDPs were ordered to leave their temporary placements by January 25 at the latest, and there are no places for them to relocate.

Fighting in Arakan State since December 2018 has displaced more than 236,000 people, and at present, there are more than 180,000 IDPs as some have returned home. Still, many of them continue to face livelihood hardships.