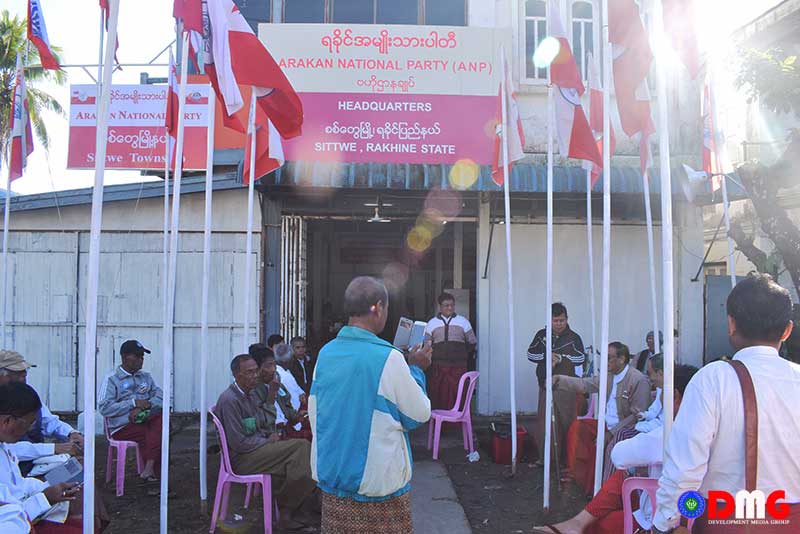 DMG Newsroom
5 February 2021, Sittwe 
The Arakan National Party (ANP), the biggest Arakanese political party in Arakan State, released a statement on Thursday signalling that it would cooperate with Myanmar's military, which seized power in a coup earlier this week. 
"In order to ensure ANP's representation in the unique Arakan crisis in the Union and other Arakanese national interests, the party would work together with the current Tatmadaw government as necessary," reads the statement. 
In its February 4 statement, the ANP also called for release of (former) Arakan State Parliament Speaker U San Kyaw Hla, who is a senior party figure. 
When the Tatmadaw staged a coup on Monday — claiming the November general election that brought a landslide victory to the National League for Democracy (NLD) had been marred by fraud — it detained dozens of elected government leaders including President U Win Myint, State Counsellor Daw Aung San Suu Kyi, region and state chief ministers and U San Kyaw Hla, as well as numerous political activists. 
U San Kyaw Hla was freed on Friday morning. "I arrived back at my home around 9 a.m. They didn't interrogate me. The commander [of Tatmadaw Western Command] arrived at 8 a.m. [at the cantonment in Sittwe where I was detained], and they drove me home," said U San Kyaw Hla. 
In its statement, the ANP said it will work together with the Tatmadaw to resolve specific Arakanese crises including removal of the terrorist label for the United League of Arakan/Arakan Army; continued implementation of proposals that were passed by the previous Arakan State Parliament; unconditional release of political prisoners including prominent Arakanese politician Dr. Aye Maung and writer Wai Hun Aung; release of those who were charged and jailed under the Counter-Terrorism Law; and return and rehabilitation of displaced people in Arakan State. 
Following the February 1 coup, the Tatmadaw declared a State of Emergency for a year and said a new election would follow, with the military handing power to the winner. 
The ANP said a period of political crisis is inevitable for the party and Arakanese people until the next election. 
The ANP won 15 seats in the Union and state parliaments in the November election. The military has formed a State Administrative Council, and has appointed ANP spokeswoman Daw Aye Nu Sein to the council as a councilmember.