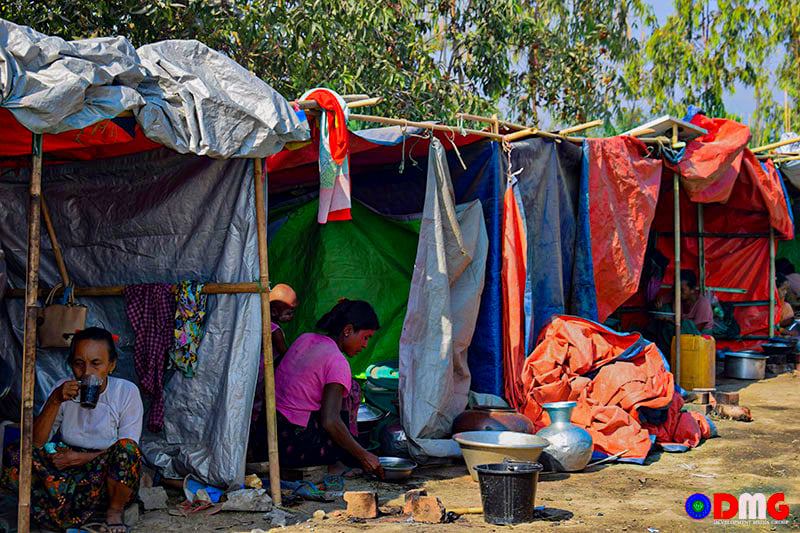 DMG Newsroom
8 February 2021, Sittwe

Internally displaced people (IDPs) in Arakan State are concerned that the international community will withdraw humanitarian aid from the region following the military coup in Myanmar on February 1.

An IDP camp opened at the Wutbazawadi Buddhist monastery in the state capital Sittwe, which is providing shelter for more than 1,000 IDPs, is facing serious food shortages, according to camp manager U Maung Tin Oo.

"The World Food Programme provides cash assistance monthly. But we haven't received it this month. We are concerned that those organisations will cease their aid as the military has seized power in a coup," said U Maung Tin Oo.

IDPs in Arakan State rely on humanitarian aid from international agencies, local social organisations and the Ministry of Social Welfare, Relief and Resettlement.

"We are concerned that international agencies and local organisations will not be able to continue providing aid for us. There are numerous difficulties staying at an IDP camp, and we therefore have grave concerns," said U Shwe Kyaw Win, who is sheltering at a camp opened at Oatthalin Buddhist monastery in Sittwe.

The camp is running out of food supplies, he said, calling on the military government to provide for the camp.

The military's pre-dawn takeover on February 1 has been widely criticised both within Myanmar and abroad, including several Western nations and UN Secretary-General Antonio Guterres.

IDPs will be in trouble if international organisations cut off food provisioning, said Ko Zaw Zaw Tun of the Rakhine Ethnics Congress (REC), a local relief group.

"It depends on how much space the military government gives to civil society organisations. For the time being, the military government has said nothing [against the provision of foodstuffs to IDPs]. So [CSOs] can still provide food," he said.

It has been more than three months since Myanmar's military and the Arakan Army ceased hostilities in Arakan State. But the majority of civilians displaced by the two-year conflict remain at camps due to landmine risks and other concerns, from fears that fighting could resume at any time to lack of livelihood opportunities in the villages they once called home.

According to the REC, more than 180,000 people remained at IDP camps as of the second week of January.