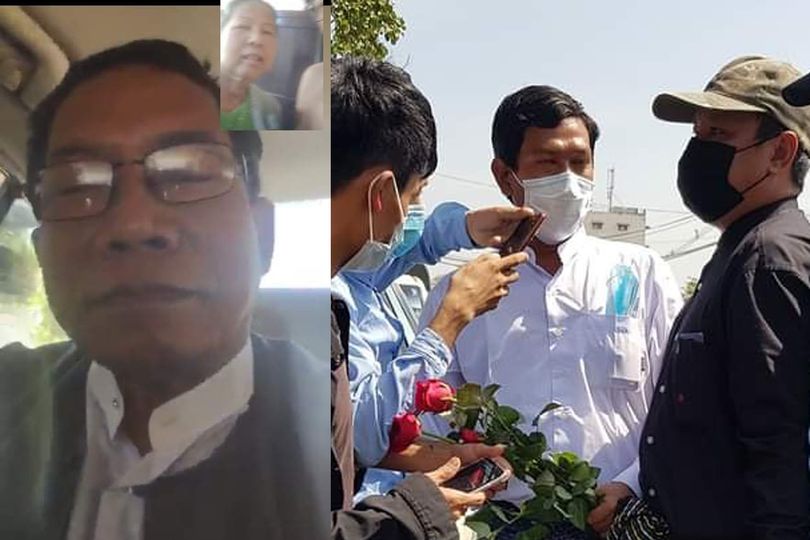 DMG Newsroom
12 February 2021, Sittwe 
The prominent Arakanese politician Dr. Aye Maung and writer Wai Hun Aung, both serving long-term sentences for treason, were among more than 23,000 prisoners released nationwide under an amnesty by Myanmar's new junta on Friday. 
A former Arakan National Party stalwart and Arakan Front Party cofounder and current chairman, Dr. Aye Maung was sentenced to 20 years in prison for high treason in March 2019, after he gave marks along with Wai Hun Aung at a 2018 event commemorating the 233rd anniversary of the fall of the Arakanese kingdom to the Burmese. 
The military government's mass amnesty came on Union Day, and less than two weeks since its takeover from the elected government on February 1.  
Protests against the coup have grown in Arakan State over the past week, as has been the case elsewhere in the country. At the same time, some had expressed hope that the military government might release Dr. Aye Maung and Wai Hun Aung, whose legal travails and imprisonment began under the deposed National League for Democracy (NLD) government.  
In January 2020, the pair lost a special appeal to the Union Supreme Court. They have been behind bars for more than a year in Yangon's Insein Prison. 
Family gathered in front of Insein Prison on Friday night after hearing word of the amnesty to await Dr. Aye Maung's anticipated release. He walked free at 11:30 p.m. on February 12 and was reunited with his family, his son U Tin Maung Win said on social media. 
Dr. Aye Maung and Wai Hun Aung declined DMG requests for comment in the hours immediately following their release. 
A total of 23,314 inmates, including 55 foreigners, have been pardoned across various prisons in Myanmar, according to state-run newspaper The Mirror Daily. 
Still a growing civil disobedience movement nationwide has included several Arakan State townships, where peaceful protests have led to arrests and criminal charges in some cases. 
Former Arakan State Chief Minister U Nyi Pu of the National League for Democracy was taken into custody this week along with two of the party's lawmakers in the state. 
The junta that took power on February 1 has since declared a one-year state of emergency, and has vowed to conduct new elections to remedy what it claims was a fraud-marred election. Multiple election monitors and much of the international community have recognized the NLD's November 2020 election victory as legitimate.