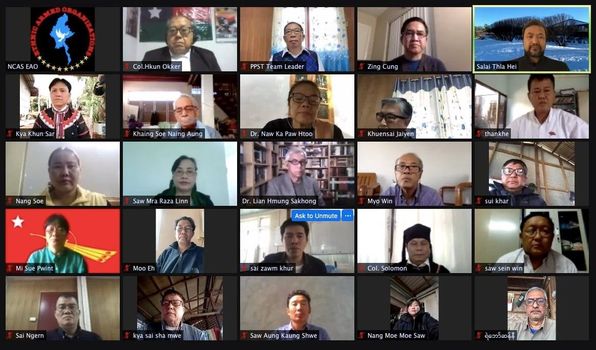 DMG Newsroom
20 February 2021, Sittwe

The Peace Process Steering Team (PPST) of the 10 ethnic armed groups that are signatory to the Nationwide Ceasefire Agreement (NCA) announced on February 20 that it would suspend political talks with Myanmar's military government.

The decision was made at the second special meeting of the PPST, which was held on February 19-20 to discuss the country's current political situation.

"An important decision was unanimously made at this special meeting," said General Yawd Serk, the interim leader of the PPST. "This means that political talks with the coup junta will be suspended for the time being."

The PPST's statement also called for the immediate and unconditional release of all people detained under the military government, and condemned recent violent crackdowns on peaceful protesters.

The PPST also offered its support for a growing civil disobedience movement in response to the military's February 1 seizure of power, saying: "We strongly support all public mobilizations and movements including the Civil Disobedience Movement (CDM) against dictatorship and the military coup. We are committed to finding all possible means to provide necessary support for the public movement."

Mass protests have been held in dozens of cities and towns across Myanmar over the past three weeks, and many civil servants have refused to work as part of the CDM against military rule.

"We will collaborate with all national and international actors, including the international community, to end military dictatorship and to seek a durable solution for the current political crisis," the PPST statement concluded.