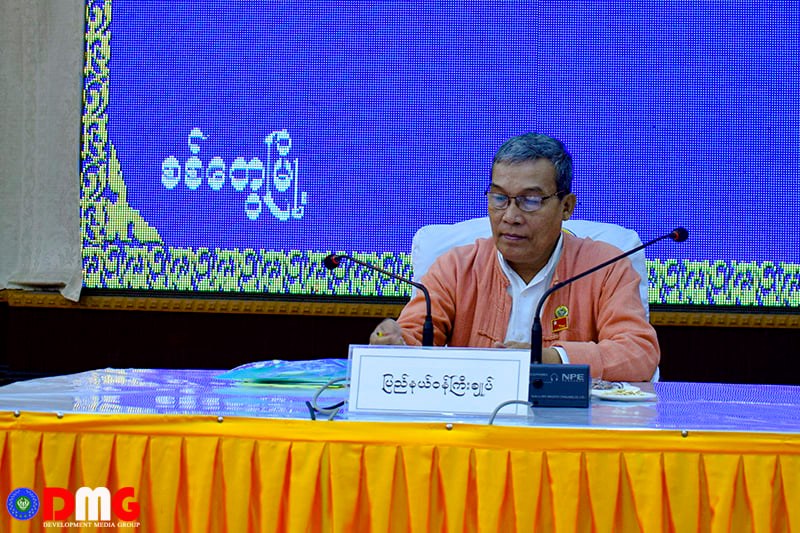 DMG Newsroom
22 February 2021, Sittwe
Charged with incitement under Section 505(b) of the Penal Code, the detained former chief minister of Arakan State, U Nyi Pu, appeared via video link for a court hearing in the state capital Sittwe on Monday.
The case was filed by U Kyaw Thein, the deputy administrator of Sittwe Township, according to a lawyer representing U Nyi Pu.
"The ex-chief minister appeared via video conferencing at the Sittwe court. We have sent a letter of representation to the court and the next court hearing is scheduled for March 4. Case management will be done on [the court hearing] that day," said U Myo Myat Hein, a lawyer representing U Nyi Pu.
U Nyi Pu was charged in connection with a statement issued by the National League for Democracy (NLD), his legal counsel added.
The former chief minister was detained as part of an initial roundup of NLD government leaders during the military's February 1 coup, but he was released two days later and placed under house arrest. On February 10 he was again taken into custody, after posting a video to his Facebook account in which he praised those who had taken to the streets over the preceding days to protest the military putsch.
Family members are concerned for the safety of the former chief minister because his whereabouts remain unknown, said Ma Kyi Kyi Oo, the daughter of U Nyi Pu.
"I don't know about my father's court hearing because we have not been in contact with him since his detention. I heard my father was charged under Section 505(b) of the Penal Code. We are very worried about his health," she said.
U Nyi Pu is in good health, his lawyer said. 
Section 505(b) imposes a sentence of up to two years in prison for anyone who "makes, publishes, or circulates any statement, rumor, or report with intent to cause, or which is likely to cause, fear or alarm to the public, or to any section of the public, whereby any person may be induced to commit an offence against the State or against the public tranquility."
According to the Assistance Association for Political Prisoners (AAPP), as of February 22 a total of 684 people had been arrested, charged or sentenced since the military takeover on February 1.