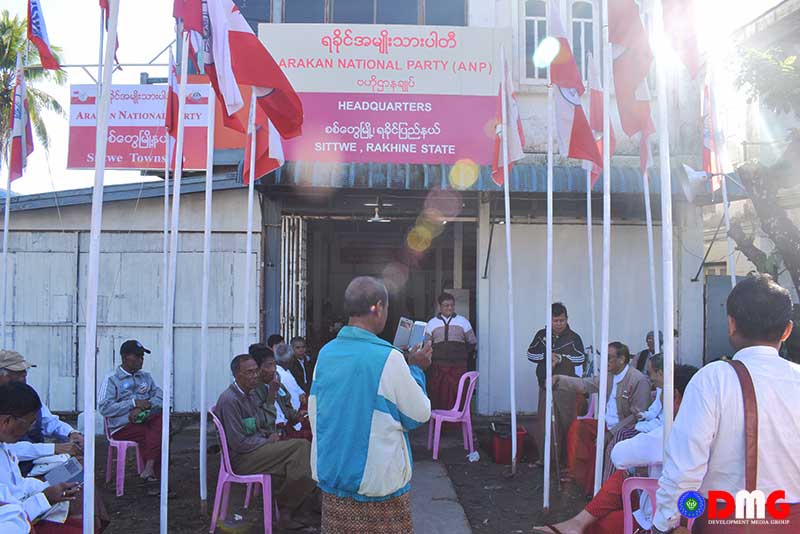 Min Tun| DMG
24 February 2021, Sittwe

Four members of the Arakan National Party (ANP) have submitted resignation letters after a top party official took a seat on the State Administration Council (SAC), the governing body set up by Myanmar's military following its February 1 coup.

Their resignation letters said they were not satisfied with the party's actions and that they did not have a desire to work for the party anymore, said U Pe Than, a member of the ANP's policy steering committee.

"Four members have directly sent resignation letters to the central committee. Another one's resignation letter was seen online. They are members of the party at the township level," he said.

U Pe Than said all of the resignations were voluntary, and that the resignations would be accepted in due course.

One central committee member who submitted a resignation letter and asked for anonymity said the ANP's decision to engage with the junta was their reason for leaving the party.

"I think joining the coup military council is against the policy of the party. So, we have to tender the resignation letter," this individual told DMG.

U Pe Than said the party faithful needed to trust in the ANP leadership when faced with challenges or difficult paths. Dissatisfaction and disagreements should be discussed in line with the party's regulations, he added.

"I want to tell our members to wait and see what we are doing. We are doing what's best for the party. It is time to seek sustainability of the party. So, members need to abide by the decisions of the leader," he said.

Earlier this month Daw Aye Nu Sein, the ANP spokesperson and a senior party figure, was appointed as a member of the State Administration Council, which was formed after the Tatmadaw seized power on February 1.

The State Administration Council appointed U Zaw Aye Maung — an ANP member and the former Yangon Region minister for Arakanese ethnic affairs — as deputy minister for the Ministry of Ethnic Affairs on Tuesday, according to a Myawady TV broadcast.

"In order to ensure the ANP's representation in the unique Arakan crisis ... and other Arakanese national interests, the party would work together with the current Tatmadaw government as necessary," read an ANP statement issued just days after the military takeover.

Dozens of civil society organisations in Arakan State subsequently released a statement on February 7 urging the ANP to reverse course regarding its decision to accept the State Administration Council role.