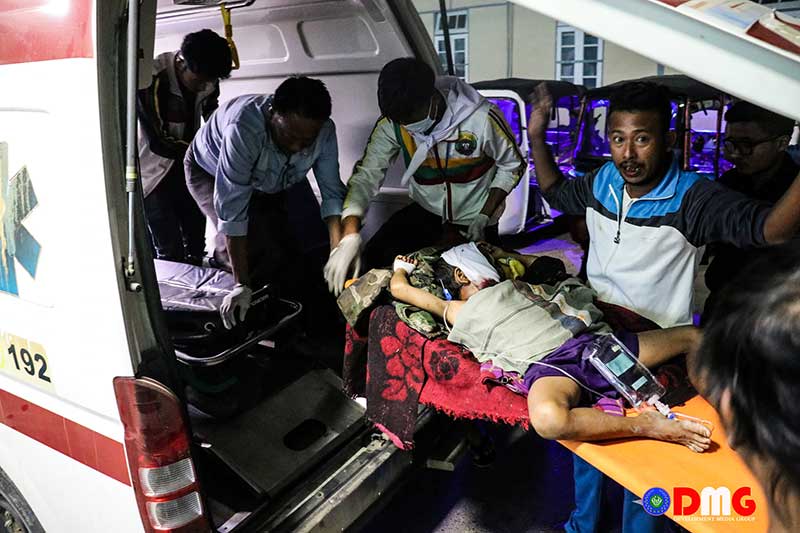 DMG Newsroom
5 March 2021, Sittwe

Two children were seriously injured when an explosive remnant of war (ERW) blew up in Pelthadu village, Rathedaung Township, on March 4, according to family members of the victims.

The blast wounded 8-year-old Maung Ye Tun in the chest, head and limbs, and his 10-year-old brother Maung Hla Tun was injured by shrapnel in his chest.

The two boys are residents of Bawdikaing village in Rathedaung Township, but are currently taking refuge in Pelthadu village.

They were injured when one of the boys picked up the ERW about a mile from Pelthadu village on Thursday morning, said Ko Maung Win Yin, an uncle of the victims.

"I heard an explosion and the mother of the victims told me to check on the children. When I went to the scene of the blast, I saw the injured brother carrying his younger brother on his back. I was told that they were wounded by an explosion of an explosive remnant of war," he explained.

Maung Ye Tun is said to be in critical condition and was admitted to Sittwe General Hospital, while Maung Hla Tun is being treated at Rathedaung Hospital, according to aid workers.

"What we found was that they got it on the back of one's head, arms and legs. Ye Tun was severely injured in the blast," said Ko Bekka, an aid worker.

Ko Maung Win Yin told DMG that a doctor on duty at Sittwe General Hospital said Maung Ye Tun's condition is not considered life-threatening.

The Tatmadaw has been clearing landmines along the Ann-Sittwe highway and around some villages in Rathedaung Township since February 15.

Many locals in Arakan State depend on farming for their livelihoods, and remain concerned about the dangers of landmines.

There have been a number of casualties from landmines and ERWs in parts of Arakan State where the Tatmadaw and the Arakan Army (AA) have clashed in recent years.

A 42-year old man from Thayetpin Chaung village in Ann Township lost one of his legs after stepping on a landmine while foraging for vegetables outside the village on February 17.

At least 33 people were killed and 66 others were injured in explosions of landmines and ERWs during about two years of fighting between the Tatmadaw and the Arakan Army in Arakan State, according to figures from the Rakhine Ethnics Congress (REC).