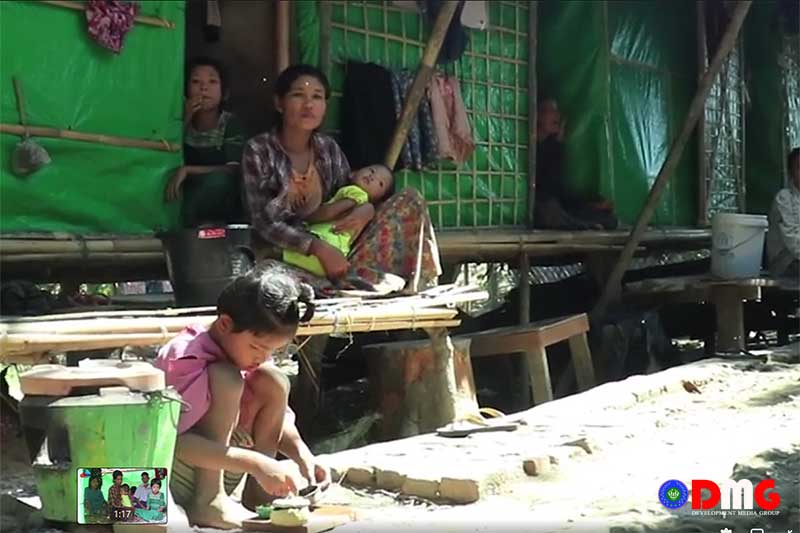 DMG Newsroom
5 March 2021, Rathedaung 
A couple sheltering at a monastery turned displacement camp in Sittwe after being injured in fighting between the military and Arakan Army last year are seeking financial assistance to fund surgeries needed to remove shrapnel from their bodies. 
U Kyaw Aye and his wife Daw Aye Than Nu were injured on August 22, when two artillery shells reportedly fired by the Tatmadaw landed in Kyaukyan Thazi village, which is part of Kyauktan village-tract in Rathedaung Township. 
Many village residents are now sheltering at Shwe Pyi Thar Monastery. 
While the family was sitting at home on the evening of August 22, U Kyaw Aye, his wife, his daughter, his brother and his niece were injured by shrapnel from one of the shells. 
The couple suffered severe injuries and have been receiving medical treatment in Sittwe, while the other three have recovered from less serious injuries.  
Daw Aye Than Nu has lost sight in her left eye because a piece of shrapnel lodged into her brain. She must go to a clinic to get medicine in Yangon once a month. 
"I have to spend K200,000 each time for medicine. The doctor told me that the piece of shrapnel should be taken out, otherwise I cannot get my vision back," she said. 
"If I do not take the medicine, both eyes will lose vision. I failed to go to the clinic and I was blind after I did not take medicine for 19 days. Then, we borrowed money and went to the clinic to get medicine," she added. 
The couple were daily wage earners in their village but they have been unable to work since their injuries, while medical expenses have been recurrent, forcing them to borrow money from friends.  
"The shrapnel hit my legs and my chest," said U Kyaw Aye, who now has difficulty walking. "The injury to my left leg requires an operation to take out the shrapnel. However, I cannot undergo the operation because of financial difficulties." 
The couple are sheltering at Shwe Pyi Thar Monastery with their eight children, seven of whom are under 18 years old.   
Daw Aye Than Nu appealed for financial assistance from donors to fund their ongoing medical treatment needs. 
"If we are provided help, we can undergo operation. We are poor and we cannot afford to get an operation," she said. 
Civilian casualties of the conflict in Arakan State and their families have received financial support from the government, the state's Security and Border Affairs minister told lawmakers in November. 
More than 300 civilians have been killed and over 700 others were injured due to the conflict between the Tatamadaw and Arakan Army, which has not been active in recent months. Tens of thousands more have been displaced by the fighting.