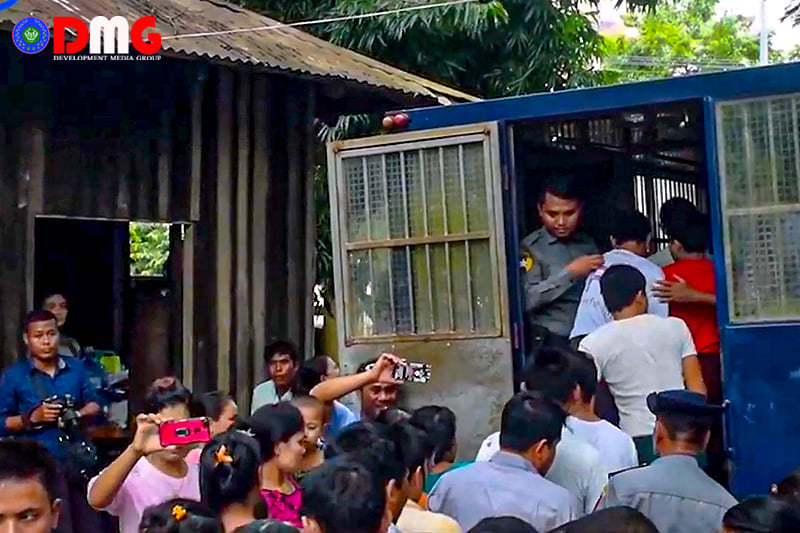 DMG Newsroom
16 March 2021, Sittwe
Two of the three charges filed against 22 residents of Lekka village in Mrauk-U Township over their alleged ties to the Arakan Army (AA) have been heard by the local court, according to defence lawyers of the accused.
The defendants were charged under Sections 50(a) and (i), 52(a) and 54 of the Counter-Terrorism Law, as well as Section 21(a) of the Arms Act 1949. The court has heard two of the three cases opened against the accused, said lawyer U Aung Sitt Min.
"Two cases have been heard. One of the cases is awaiting a verdict. As to the second case, the court has yet to decide whether the accused should be charged. And the court is still hearing the third case. There are 47 prosecution witnesses in that case. Ten witnesses have testified," said the lawyer.
Prosecution witnesses in the third case failed to show up at the courthouse on Monday, and the next court hearing has been scheduled for March 19.
The Lekka villagers were arrested in April 2019 on suspicion of having ties to the AA, and have been behind bars ever since. Their court hearings were suspended for nearly six months due to a COVID-19 outbreak in Arakan State.
Myanmar's military governing body, the State Administration Council, on March 11 announced that it had removed the AA from its list of terrorist organisations. Family members of Arakanese people charged under the Counter-Terrorism Law on suspicion of ties to the AA are expecting that the military will drop those charges in the aftermath of the de-designation.
"We hope that our sons will be released as the AA's terrorist status was removed. We are anticipating their release," said Daw San Tha Nu, the mother of a 24-year-old detainee from Lekka.
According to the Thazin Legal Institute, 362 people were arrested on suspicion of having ties to the Arakan Army amid fighting between the military and the ethnic armed group over the past two years.