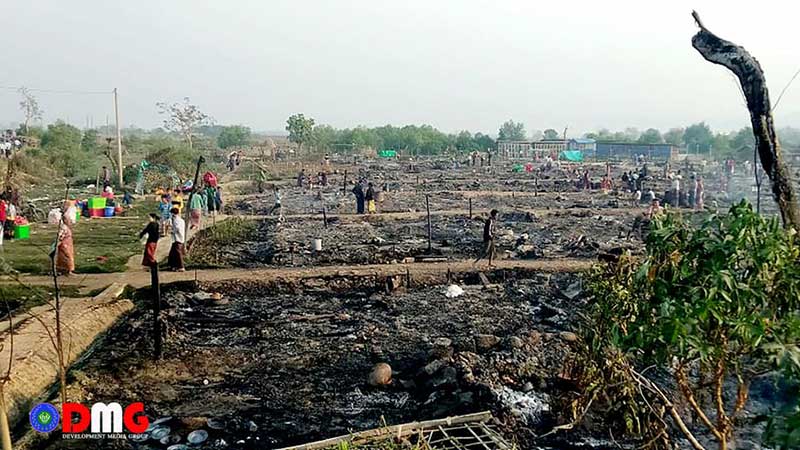 DMG Newsroom
18 March 2021, Mrauk-U

A total of 663 temporary shelters were reduced to ash when a fire broke out at the Tin Nyo camp for internally displaced people (IDPs) in Arakan State's Mrauk-U Township on Wednesday evening, according to camp managers, with the blaze affecting 2,565 people.

"The fire was caused by negligence. A woman put her baby to sleep, lighting a candle. Then she went out. The candle fell down and the wall caught fire," said member of the camp management committee, U Soe Naing.

The fire began at around 8:30 p.m., and extinguishing it was difficult due to strong winds. The baby from the shelter where the fire reportedly started and a woman who rescued the child were slightly injured, U Soe Naing said.

More than 2,500 people who lost their shelters in the fire had to sleep near the road in front of the camp and in fields to the west of the camp.

They are being temporarily accommodated at a Buddhist monastery in Tin Nyo village, where local residents and donors have supplied food to those affected.

"Because they lost all their kitchen utensils in the fire, we borrowed pots and pans and cooked together with Tin Nyo villagers and volunteers for the fire victims. For the time being, they need cooking utensils and clothes," said U Soe Naing.

The chairman of the Arakan State Administration Council and members visited the camp on Thursday and discussed with camp officials prospects for the return of IDPs to their villages, as well as providing some food and blankets to the fire victims.

Rakhine Ethnics Congress Secretary U Zaw Zaw Tun said the civil society group would identify the needs of fire victims and work together with other organisations to assist with their return and resettlement.

The Tin Nyo IDP camp houses a total of 3,355 people from 13 villages who fled fighting between Myanmar's military and the Arakan Army in early 2019.

More than 230,000 people were displaced from their homes over the course of about two years of hostilities in Arakan State, and some 50,000 people have returned to their homes since the fighting ceased in November.