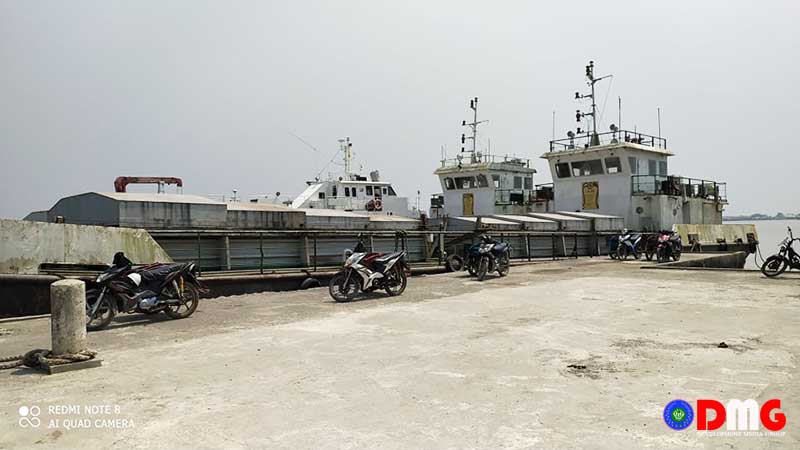 DMG Newsroom
22 March 2021, Myebon

Myebon residents have called for the daily operation of passenger vessels between their town and the Arakan State capital Sittwe.

Currently, Myebon residents wanting to travel to Sittwe have only two options: take the Kisapanadi 1 passenger vessel run by Inland Water Transport or the Shwe Pyitan passenger vessel.

The Japan-donated Kispanadi 1 runs a Sittwe-Myebon-Kyaukphyu route on Wednesdays and a Kyaukphyu-Myebon-Sittwe route on Thursdays, meaning people from Myebon can only travel to Sittwe on Thursdays if they are to take the Kispanadi.

Meanwhile, the Shwe Pyitan passenger vessel runs twice daily between Sittwe and Minbya; once in the morning and again at noon. The vessel, however, does not run directly to Myebon. For people in Myebon, they have to go first to Minbya by car in order to take the Sittwe-bound Shwe Pyitan vessel. Travelers returning from Sittwe to Myebon using the Shwe Pyitan option must also transit through Minbya.

Myebon residents therefore are lobbying for passenger vessels to run daily between their town and Sittwe. "Kisapanadi only runs once a week and we have to incur extra costs to take Shwe Pyitan. So, we want there to be a daily passenger vessel between Myebon and Sittwe," said Myebon resident Ko Kaung Kaung.

Fellow Myebon resident Ma Nandar Oo said: "It will be good for trade if there is a vessel that runs daily to Sittwe. It will facilitate commodity flows. If we can bring goods directly from Sittwe, this will help reduce commodity prices and bring good for Myebon residents."

Kisapanadi 1 operates at a loss, but Inland Water Transport keeps it running as a service to the public, said manager U Taing Kyaw Min of the Myebon Township Inland Water Transport.

"We ran twice a week in the past, and made a loss. But we keep running once a week for the convenience of the people despite losses," he said.

Many passenger vessels suspended operations in Arakan State as of April 2020, following the first wave of COVID-19 infections in the country. Operations resumed last month.

Due to higher transportation costs, Myebon residents have to pay higher prices for food compared with other townships in Arakan State.