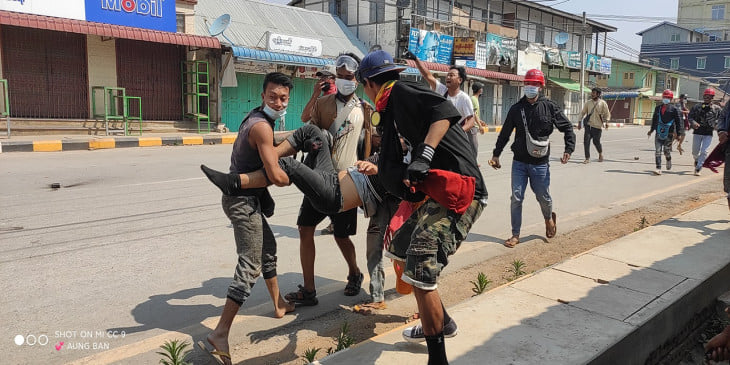 DMG Newsroom
30 March 2021, Sittwe 
The Myanmar military's brutal violence against peaceful anti-regime protesters is unacceptable, said Arakan Army (AA) spokesman Khaing Thukha. 
"The Myanmar military and police are brutally shooting innocent protesters to death. This is totally unacceptable in a civilised society. We strongly condemn such inhumane acts," said Khaing Thukha. 
The Brotherhood Alliance, which groups the Myanmar National Democratic Alliance Army (MNDAA); Ta'ang National Liberation Army (TNLA); and the AA, condemned the military junta on Tuesday after the civilian death toll from its lethal crackdown on anti-regime protesters rose to more than 500 nationwide.
Their joint March 30 statement strongly criticised the junta for using live ammunition, including grenades, on anti-regime protesters, and for killing and injuring children. 
The statement voiced concern that the numbers of casualties and detainees are likely to grow in the days to come. According to the Assistance Association for Political Prisoners (AAPP), the military has detained more than 2,500 people, including the leaders of Myanmar's democratically elected government, other politicians, activists and pro-democracy supporters. 
"We have told the Myanmar military to stop killing people. It is time for ethnic organisations to join hands to protect oppressed civilians from the military regime. We must do our best to protect the lives and property of the oppressed people," Khaing Thukha said. 
Prior to the February 1 coup, the Brotherhood Alliance had been negotiating individual bilateral agreements between each member and the military to cease fighting, and declared a unilateral ceasefire in support of the negotiations. After the Tatmadaw takeover, they extended their unilateral ceasefire through March 31. 
Tuesday's statement said the Brotherhood Alliance is reconsidering its plan to extend the unilateral ceasefire beyond this month. 
Former Arakan State lawmaker U Pe Than of Myebon Township said the Brotherhood Alliance had signaled that its members would resume fighting if the Tatmadaw did not stop killing anti-regime protesters.