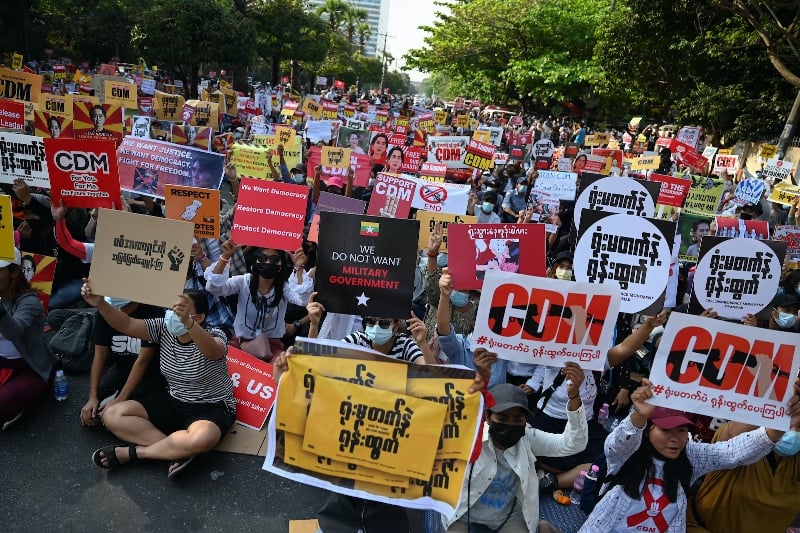 DMG Newsroom
31 March 2021, Sittwe
The United Nations says more than 500 civilians, including several children, have been killed by security forces since the military seized power in Myanmar, with the world body calling for a strong international response to the bloodshed. 
UN Secretary-General António Guterres condemned the killing of scores of civilians, including children and young people, by Myanmar security forces on Saturday.   
"The continuing military crackdown, which today resulted in the highest daily death toll since demonstrations against the coup began last month, is unacceptable and demands a firm, unified and resolute international response," a spokesman for the secretary-general said on Saturday.  
"It is critical to find an urgent solution to this crisis. The secretary-general reiterates his urgent appeal to the military to refrain from violence and repression. Those responsible for the serious human rights violations committed in Myanmar must be held accountable."  
Saturday's death toll marked the bloodiest day of protest crackdowns since the military staged a coup on February 1, installing in place of the elected government a junta that it has called the State Administration Council (SAC).  
Henrietta Fore, executive director of the UN children's agency UNICEF, said at least 10 children were killed and one was injured in Saturday's crackdowns by security forces. 
Millions of children and adolescents, meanwhile, have directly or indirectly experienced traumatic events since the coup that could affect their mental health and emotional well-being. 
Fore said was shocked by the indiscriminate killings of young people, and by the Tatmadaw's failure to ensure the safety of children. 
In another forceful denunciation, Alice Wairimu Nderitu, UN special adviser on the prevention of genocide, and UN High Commissioner for Human Rights Michelle Bachelet issued a joint statement on Sunday cautioning that atrocities could escalate in Myanmar after the bloodshed over the weekend. 
"The shameful, cowardly, brutal actions of the military and police — who have been filmed shooting at protesters as they flee, and who have not even spared young children — must be halted immediately," Bachelet and Nderitu said. "The international community has a responsibility to protect the people of Myanmar from atrocity crimes."