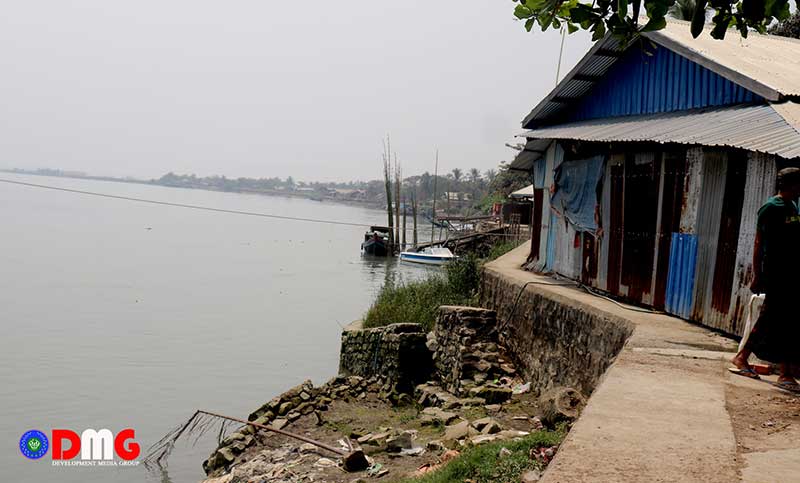 DMG Newsroom
1 April 2021, Minbya 
With the Rar Maung Bridge — spanning the river of the same name in Arakan State's Minbya Township — inaccessible to heavy vehicles for years, a boat accident this week is straining alternative river-crossing methods, and snarling trade and transport in the region. 
Since it was closed to trucks and passenger buses due to concerns about the ageing bridge's ability to safely accommodate them, large vehicles have crossed the Rar Maung River near the bridge using passenger-cum-cargo vessels while a replacement bridge is under construction. 
But since March 28, more than 200 passenger buses have been stranded due to the wreckage of a cargo ship crossing the Rar Maung River, said U Maung Win Chay, an official with the Kathi Oo bus line. 
"One of the two boats was damaged and the passenger buses had to be stopped. The vehicles that arrived today are expected to cross the Rar Maung River in the next two days," he said. 
The Rar Maung River crossing is a major road link to and from Yangon, Mandalay, Minbya and Sittwe. 
Local traders said the traffic backlog was affecting commodity flows, and perishable goods were at risk of spoiling.  
"Vehicles are stuck and goods [at the cargos' destinations] are running low. Motorists may also ask for more transportation charges," said U Maung Hla Tun, a vegetable trader in Sittwe. 
In addition, petroleum shortages were reported in Sittwe on April 1. 
A new bridge is being built parallel to the Rar Maung Bridge, with construction beginning in 2018 and slated for completion within the next five months, according to former Arakan State lawmakers.