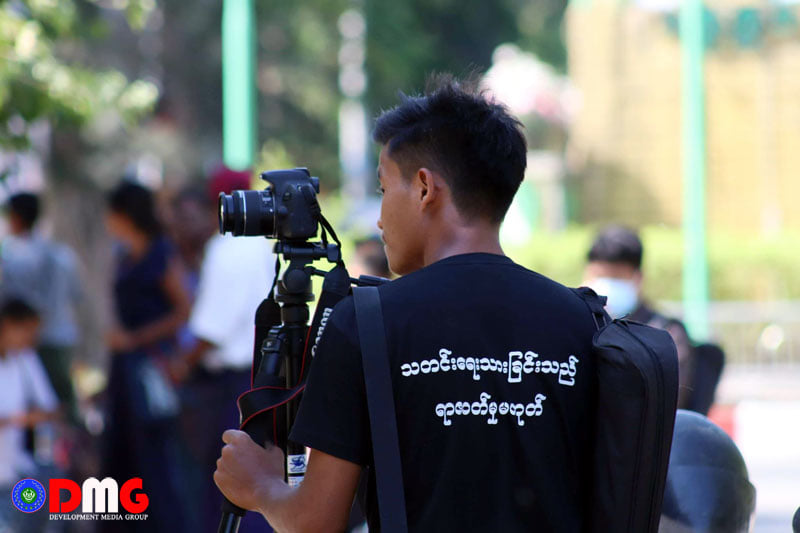 DMG Newsroom
2 April 2021, Yangon 
Eight organisations representing Myanmar journalists have released a statement objecting to a Ministry of Information plan to issue press identity cards. 
The ministry sent a letter to the Myanmar Press Council on March 12 saying it is arranging to issue journalist ID cards, purportedly in order to make it easier for members of the media to access information and be invited to events such as press conferences. 
But the April 1 statement from the eight groups said they did not believe the journalist ID cards were needed, asserting that journalists report to their own news agencies alone, and that these agencies in turn are registered with the ministry.  
The statement said the signatory organisations objected to the plan to issue ID cards for journalists, describing it as another measure to control the media, on top of the revocation of five news agencies' publishing licences and the detention of more than 50 journalists in the two months since the Myanmar military's February 1 coup.  
"It is an act to control journalists. The ministry does not need to issue media cards because journalists have their media card issued by the news agency they are working for. These news agencies are also granted licences by the ministry for publishing," said U Naing Min Wai, associate secretary of the Myanmar Journalist Network, one of the eight groups behind the statement.  
"Journalists are independent. We are not under the government," said Ko Myo Myint Zaw, an editor of the Thingangyun Post news outlet. "As a reporter, I denounce the plan to issue journalist identity cards for those who are working independently. If I were to register for the card, I could not present news that is independent and fair. So, I will not go and apply for the card." 
The eight organisations' statement also demanded the immediate release of all journalists detained since the military seized power.  
The statement signatories are the Myanmar Journalist Network, Myay Latt Journalist Network, Myanmar Journalist Network (Ayeyarwady), Lashio Reporters Group, Rakhine Journalist Network, Myanmar Woman Journalists Society, Taunggyi Journalist Association and Southern Myanmar Journalist Network.