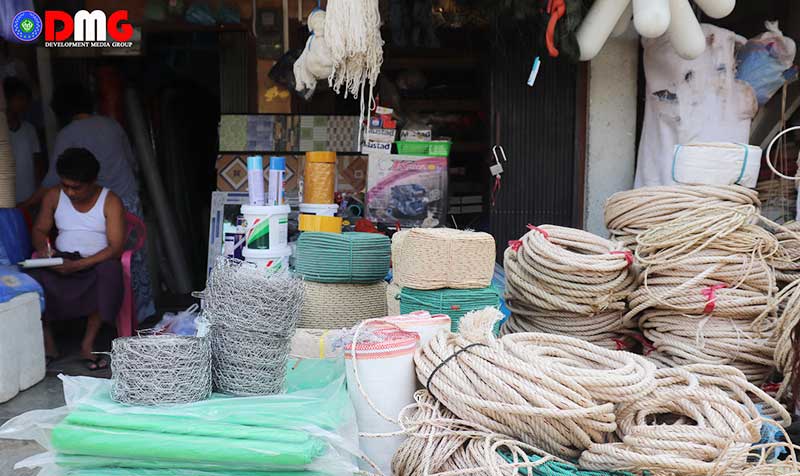 DMG Newsroom
2 April 2021, Sittwe 
The price of construction materials, which Arakan State mainly sources from Yangon and Mandalay, has increased by up to 15% compared with last year, according to construction materials shops. 
U Tin Aung Oo, chair of the Rakhine State Chamber of Commerce and Industry, said construction materials prices have increased by between 10-15%. 
Arakan State depends on shipments from other parts of Myanmar for more than 80% of its construction material needs, and some materials cannot currently be obtained in the quantities sought by vendors because trade flows have slowed, U Tin Aung Oo told DMG last month. 
Daw Khin Saw Myint, owner of a construction materials shop in Myebon town, said the price rise was due to transportation disruptions caused by ongoing political instability and other logistical snafus, and reduced supplies. 
According to industry sources, the price of a bag of cement from one major Myanmar manufacturer has increased from K7,500 to K9,500, while a competitor's has increased from K7,000 to K9,000. A one-tonne iron bar cost about K700,000 previously, but has risen to more than K800,000. 
Sales are also decreasing compared with last year, Daw Khin Saw Myint said. 
"This year the sales of construction materials are decreasing because fewer people are constructing buildings as the price is rising," she said. 
The construction materials cost increases are reflected in rising home prices, said U Oo Phoe Tin, who is himself in the midst of building a house. 
"The expenditure for a building was about K20 million previously, but it became about K30 million due to the price rises. So, the number of people who built new buildings is lower this year," he said. 
The owner of Pwint San construction material shop in the Arakan State capital Sittwe said: "People use more iron than previously. When we [construction materials retailers] cannot purchase the material they [customers] want, the buyers are facing difficulties."