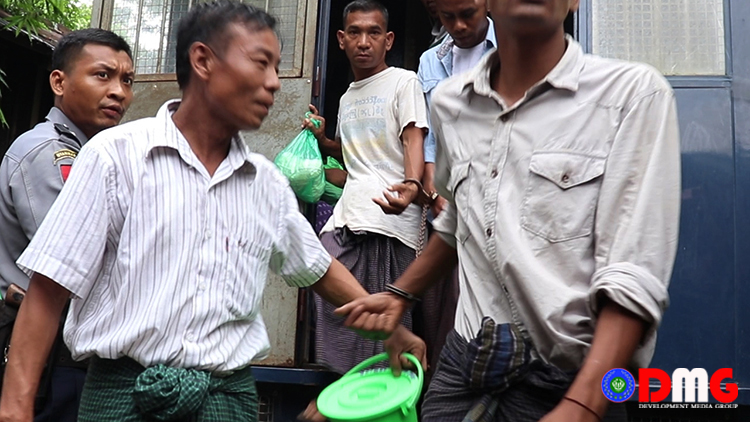 Thet Naing | DMG
20 June, Sittwe
Eight detained people from Kyauktan village in Rathedaung Township have been charged at Sittwe district court against the Counter Terrorism law, according to Sittwe District Lawyers' Association.
They have been charged under section 50 (i) and 52 (a) of the Counter Terrorism law for offences relating to terrorist bombings and other act of terrorism; the first charge may bring a sentence of ten years to life imprisonment and the latter charge may carry a sentence of three to seven years imprisonment.
A military officer prosecuted them on 6 June, said advocate U Than Tun from the Sittwe District Lawyers' Association.
Since the detainees are poor villagers, the lawyers' association will represent them pro bono.
Family members claimed that the villagers are innocent and they have been detained unlawfully.
"I'd like my son released from detention. He is innocent. He is just a farmer and I have to depend on him for my living," said Daw Yi Yi Soe, mother of Maung Nyein Shwe, one of the detained villagers.
Power of attorney has been submitted to the court at today's court hearing, and the next court hearing was scheduled on 27 June.
A Tatmadaw column checked people in Kyauktan village in April on the suspicion of having associations with the AA, seven villagers were killed and at least seven others were injured when military fired guns in the melee during detention.