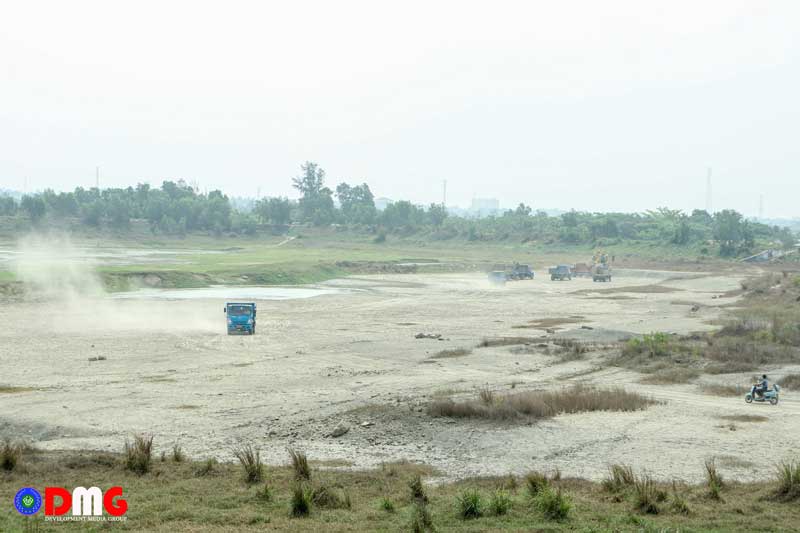 DMG Newsroom
3 April 2021, Sittwe 
The Arakan State Administration Council is conducting field inspections at Sittwe's Kandawgyi Lake, which supplies water for the Arakan State capital, in hopes of addressing its tendency to dry up during the summer months, according to U Hla Thein, the council's information officer. 
"The lake dries up every year," he said, adding that he was not aware of what would be done for the lake in detail.  
U Hla Thein told DMG to inquire further with the chair of the Arakan State Administration Council, but when DMG sought comment from the council chair, Dr. Aung Kyaw Min, he said he was unavailable and told DMG to ask the council's information officer. 
The lake is a reservoir for rainwater, but it dries up in the rain-scant summer months. Last week DMG observed that the lake had been dredged in an apparent effort to allow it to store up more water during the rainy season. 
Some wards in Sittwe are suffering water shortages as the lake dries up. 
"We do not get enough water and the water we do have available is not clean. I am worried that my children will suffer a disease as the water is not clean," said a female resident of Sittwe who did not want to reveal her name. 
Another female resident of the Arakan State capital, from Sin Ku Lan ward, said water is not available in her neighbourhood, and she has to fetch water from the house of a friend elsewhere in the city. 
At least five wards in Sittwe do not have access to water and not all houses in the other wards get water, residents said.