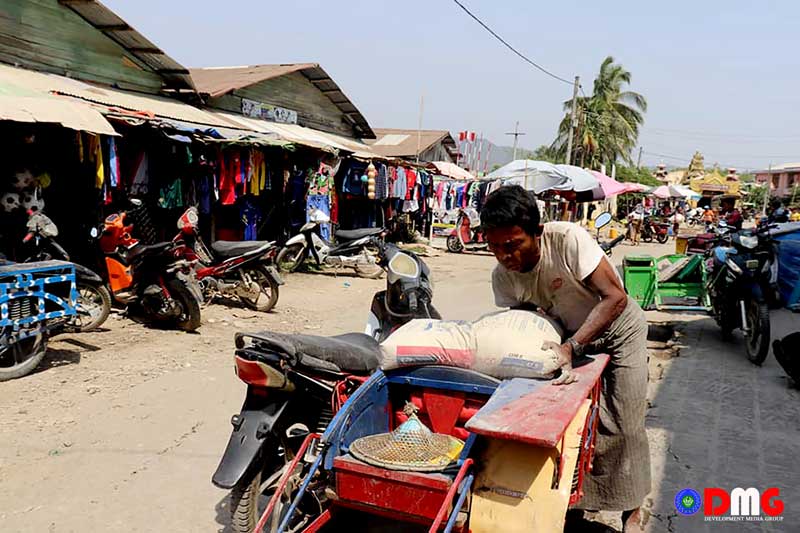 DMG Newsroom
7 April 2021, Sittwe
The prices of goods imported from central Myanmar into Arakan State have increased by up to 50%, said U Khin Maung Gyi, vice chair of the Rakhine Economic Initiative Public Co Ltd.
Transportation delays due to the country's current political instability was one factor contributing to the rising prices, he said.
"The price of foodstuffs from Arakan State increased 30%.  But, the price of household commodities increased more than 50%," he said.
Prolonged commodity price hikes could lead to goods shortages and crises, he added.
"To solve the problem, businesspeople who have good ideas need to take risks because we cannot depend on the government at the moment. I think using waterways to transport goods could solve the problem," he said.
The cost of construction materials, which are mainly imported from Yangon and Mandalay, has risen by about 15%, according to shops that sell construction materials.
According to industry sources, the price of a bag of cement from one major Myanmar manufacturer has increased from K7,500 to K9,500, while a competitor's has increased from K7,000 to K9,000. A one-tonne iron bar cost about K700,000 previously, but has risen to more than K800,000.   
Ko Maung Hla Thein, a grocery owner in Sittwe Myoma market, said the prices of household commodities such as cooking oil, chili and cigarettes are also increasing.
"The prices of vegetables haven't increased too much, but the goods imported from Yangon are up. Because there are protests in Yangon, we face difficulty placing orders for the goods," he said.
Arakan State depends on central Myanmar for more than 80% of its goods, and some items cannot be ordered as required due to transportation delays, U Tin Aung Oo, chair of the Arakan State Chamber of Commerce and Industry, told DMG recently.