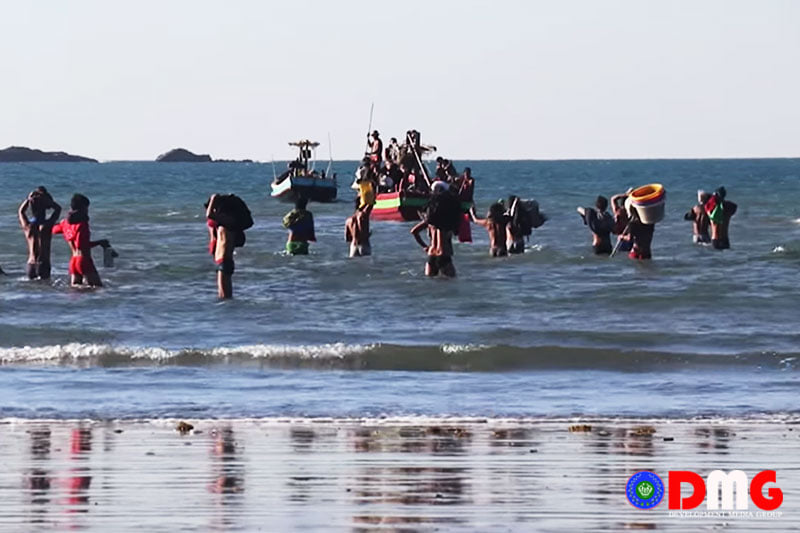 DMG Newsroom
10 April 2021, Kyaukphyu
With seafood fetching low prices and commodity prices surging due to political instability, many in the fisheries business in Kyaukphyu Township are facing livelihood difficulties.
"When a fishing boat goes fishing, we have to spend our money on fuel oil, ice and labour. Previously, we covered our daily expenditures the following day, after we sold the fish at wholesale businesses. However, the income is lower now," said U Aung Lin, the owner of a trawl net fishery at Kone Bway village in Kyaukphyu Township. "We got K7,000 now, though we were paid K10,000 previously. So, it is not OK for us."
Kone Bway village has about 600 houses and a majority of the villagers depend on the fisheries industry for their livelihoods. But given market conditions, some are picking up second jobs, or getting out of the seafood business altogether, said village resident Ko Yan Naing Soe.
"They are working as carpenters or motorbike taxi drivers," he said.
Seafood prices have fallen by more than 50% in Kyaukphyu Township, according to seafood dealers.
A viss of lobster previously fetched more than K80,000, but has fallen to less than K40,000 while a viss of Kathatate fish is down from more than K10,000 to more than K6,000.
Traders said crab and prawn exports have also decreased because the Muse trade with China, the main export route for seafood from Arakan State, has been suspended.