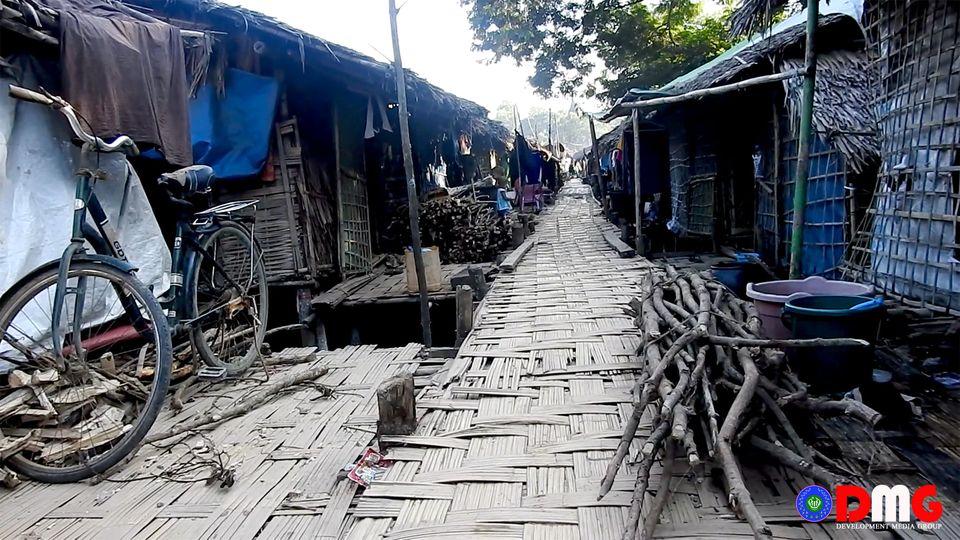 DMG Newsroom
21 April 2021, Kyauktaw

Ahead of the rainy season, displacement camp managers have invited donations for repair work at the temporary settlements they oversee in Myebon and Kyauktaw townships.

The Kanhtaunggyi and Sanyin camps for internally displaced people (IDPs) in Myebon Township, and Nyaungchaung IDP camp in Kyauktaw Township, are in urgent need of repair.

More than 3,400 people from 820 households are taking shelter at Nyaungchaung IDP camp, and around one-third of the camp dwellings are badly damaged, while the rest need to have their roofs repaired, said camp manager Ko Khaing Myo Aung.

"Roofs have leaks in many houses and some houses are damaged in terms of both roof and walls. There are no donors," said Ko Khaing Myo Aung. "IDPs are concerned that they may get into trouble once the rainy season comes. They are struggling even to feed themselves, and can't afford to repair their shelters. Yes, they can find bamboo and timber from the forest, but many of them don't know how to do repairs."

Most of the IDPs at Nyaungchaung camp are from Tinma and Pyaingtaing villages, and many do not have homes to return as their villages were decimated by fire amid fighting between Myanmar's military and the Arakan Army (AA).

Kanhtaunggyi IDP camp in Myebon, meanwhile, houses 1,062 people from 301 households. The camp has more than 400 shelters, and almost all of them are in bad condition, said camp manager Ko Maung Aye Tha.

"Almost all the houses are collapsing and we need money to buy thatch and bamboo to rebuild those houses," he said. "IDPs will have serious problems in the rainy season if those houses are not repaired. They have no houses to return to in their villages and they have also lost their farmlands."

Most of the IDPs at the camp are from rural parts of Myebon Township.

There are over 400 people from 137 households at Sanyin IDP camp. The camp is not recognised by the government and several houses there are also in need of repair.

The government has not provided any assistance for shelter repairs at the camp, and IDPs at most of the camps work odd jobs to eke out a living as relief aid donations have significantly declined, according to managers.

More than 200,000 people were displaced by the two years of fighting that began in Arakan State in late December 2018. Tens of thousands of IDPs have returned to their homes as the military and the AA have observed an unofficial ceasefire since November of last year.

Still, more than 168,000 people remain at dozens of displacement camps across Arakan State. While some have no home to return to, others have been reluctant to leave the relative safety of IDP camps due to landmine risks and military deployments near their villages.