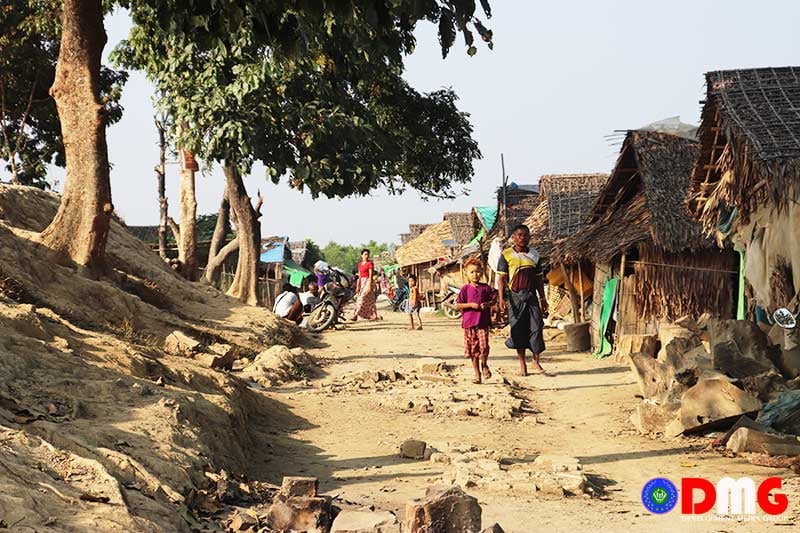 DMG Newsroom
28 April 2021, Sittwe  
Most internally displaced people (IDPs) who fled fighting in Arakan State between the Tatmadaw and Arakan Army still find themselves unwilling or unable to return home some six months after the warring sides reached an unofficial ceasefire. 
The two-year conflict displaced more than 200,000 people, and over 160,000 are still sheltering at IDP camps despite a cessation of hostilities since November. 
Many IDPs say they do not want to return home for reasons ranging from having lost their houses and property during the fighting to ongoing deployments of Tatmadaw troops near their villages and the risk of landmines and unexploded ordnance. 
U Oo Soe Thein, an IDP from Tinma village in Kyauktaw Township, said authorities must take responsibility for the return of IDPs. 
"We want to return home because the monsoon will arrive soon. It is not convenient for us to stay here in the monsoon," he said of the displacement camp where he currently resides. "Also, we need to prepare to grow paddy. So, if we return home, authorities need to take responsibility for our livelihoods." 
Arakan State Attorney General U Hla Thein, who is a member of the Arakan State Administration Council, told journalists on April 26 that the Arakan SAC will repair houses and provide food for IDPs if they return home. 
"Some IDPs report that they want to return home. We will repair their houses if their houses were destroyed. And the Ministry of Social Welfare, Relief and Resettlement will provide food for three months," he claimed.  
The Arakan SAC will also provide farmers with tractors, paddy seeds and fertilisers to grow monsoon paddy, he added. 
U Hla Thein said the council provided K500,000 ($321) in cash and a month's worth of food for a household when more than 100 IDPs from Ann Township returned to their homes on April 24, with the Department of Disaster Management also providing K100,000 per household. 
U Than Tun, secretary of the Arakan SAC, said about 500 IDPs from Lekka, Tinma and Phar Pyo villages in Mrauk-U, Kyauktaw and Minbya townships, respectively, reported wanting to return home. 
The council will provide food and repair houses destroyed by fire, he said. 
"We will provide food for a month at least. For the families whose houses were destroyed by fire, we will provide food for three months. Additionally, we will rebuild their houses if they want to return home. We are not forcing them to return home," he said. 
But U Aung Sein Oo, an IDP who fled a home in Lekka village, said lists of people looking to return home and houses destroyed by fire have been submitted to the council, but there has been no response thus far.  
"As the military council asked us if we want to return home, we responded that we want to return home," he said. 
"We want to return home before the monsoon. We are wondering when we can return home. So, I'd like to ask authorities to ensure that we can return home as soon as possible."