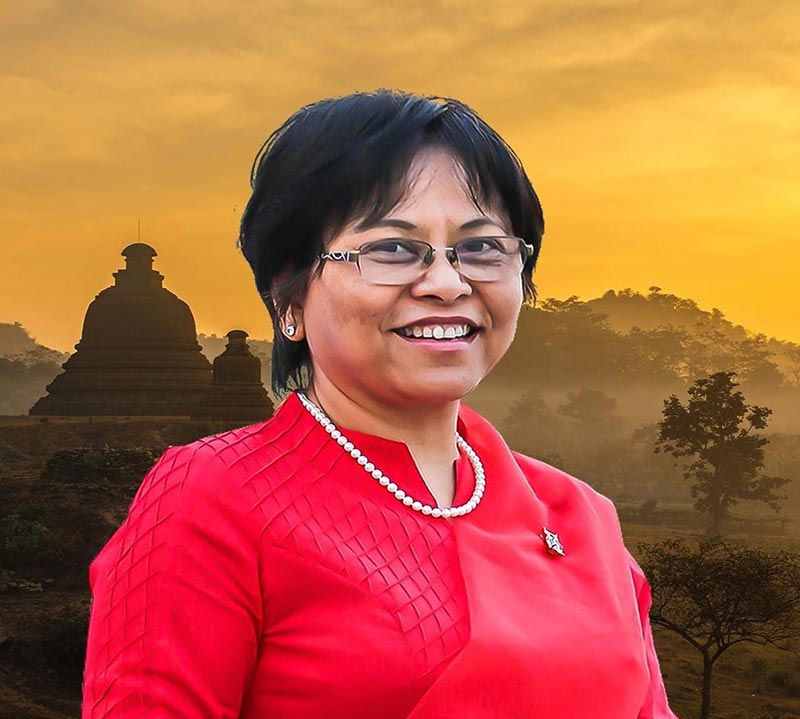 DMG Newsroom
9 May 2021, Sittwe 
The necessary steps will be taken to crown the Mrauk-U archaeological zone a UNESCO World Heritage Site, Dr. Tin Mar Aung recently told DMG, as a project she has spent years guiding looks likely to enter its final phase under military rule. 
Dr. Tin Mar Aung said she would continue to do what needed to be done despite criticism on social media after she attended a meeting on May 6 organised by the junta-run Ministry of Religious Affairs and Culture to secure UNESCO World Heritage status for Mrauk-U in Arakan State. 
She noted that the Mrauk-U archaeological site has been on the path to being inscribed on the World Heritage List since 2017, adding that she was only working to resolve those issues that are still pending. 
"I was working on UNESCO access in the past, but now it is almost over, so I have to go and do something," said Dr. Tin Mar Aung, who has been involved in Mrauk-U's bid from the beginning. "We have to continue to do what we have to do in this regard." 
Driving the effort forward at a time when Myanmar's international standing has plummeted, post-coup, is a sense that the ancient cultural heritage of Mrauk-U is at risk of being lost, with hopes that the UNESCO recognition will help to preserve what is left. 
"Mrauk-U is deteriorating year after year. Invasion of cultural sites is on the rise. In order to maintain them properly, we need modern technology from the international community. We are trying to get Mrauk-U inscribed onto the UNESCO World Heritage List to get such assistance first," Dr. Tin Mar Aung said. 
Daw Khin Than, chairperson of the Mrauk-U Cultural Heritage Preservation Group, said the final proposal for Mrauk-U's UNESCO bid had been sent to the relevant government departments on time, but was delayed for another year due to fighting in Mrauk-U and the COVID-19 pandemic. 
"Our proposal was delayed by a year," she said. "Therefore, this time we will draft and present a more complete proposal than the previous final proposal. For this, we need to get help from the relevant departments," she added. 
The delayed final proposal will be submitted to UNESCO in January 2022, with a UNESCO inspection in September to determine whether Mrauk-U will be inscribed on the World Heritage List in 2023, she explained. 
Ko Khaing Min Shan, a local youth, said a UNESCO determination on the archeological zone should be made as soon as possible due to encroachment on the hills where Mrauk-U's centuries-old pagodas and stupas are located. 
"Currently, there are military positions near the ancient pagodas where artillery and bunkers are set up," he said. "No government can handle this effectively. If UNESCO joins, the world will know the current situation of Mrauk-U." 
Residents have claimed that the Tatmadaw stations its troops on hills where pagodas are located in Mrauk-U and elsewhere in Arakan State; accusations that the military rejected at a press conference in January 2020. 
There are 47 archeological sites in Myanmar including Mrauk-U, an ancient city of the Arakanese people that was declared a cultural heritage site by a previous military government in 1996.