DMG Newsroom
27 May 2021, Ramree
The Rammarwadi traditional rowing competition, which had been suspended for three years, is being held again this year in Arakan State's Ramree Township, from May 27-30, according to the central organising committee.
The 2021 rowing competition includes 20 participating teams, said U Tun Naing, a member of the organising committee.
"The boat race began this morning with 20 participating teams," he said on Thursday. "The rowing teams are divided into two groups, the first class and the second class. There will be nine boats competing in the first class. There will be 11 boats competing in the second class. The number of participating teams has increased compared with previous years."
The first and second rounds of the competition are divided into teams that have previously won prizes. The teams that have never won a prize are ranked second and have been divided to allow for more equal competition.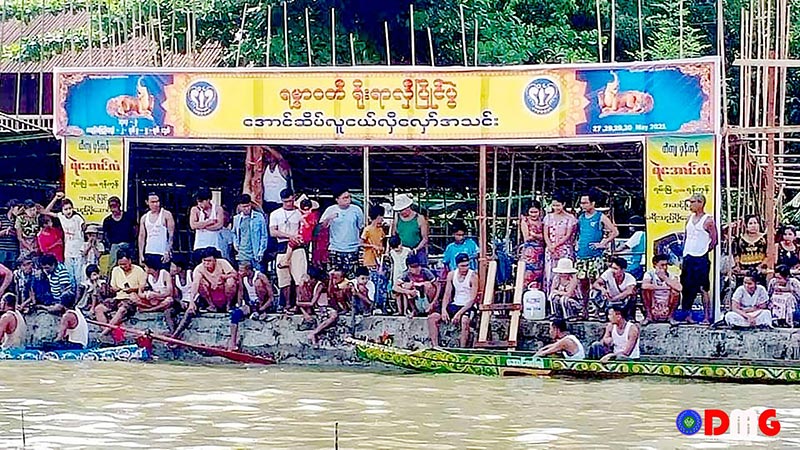 A gong, a wooden boat and K700,000 will go to the first prize-winning team; K600,000 to the second prize-winning team; and K500,000 will be awarded to the third prize-winning team in the first class. In the second class competition, the winner will receive a gong, a wooden boat and K600,000, the runner-up will be presented K500,000, while the third prize-winning team will be awarded K400,000.
"I am aiming to win the first prize in the competition. There are a lot of difficulties in preparing for the rowing competition. You also need to be consistent when rowing," said Ko Maung Chay from the Aungseik rowing team, which will take part in the second class.
The traditional rowing competition has been held in Ramree Township since the Mrauk-U Kingdom era, with occasional periods of hiatus including the three years prior to 2021.