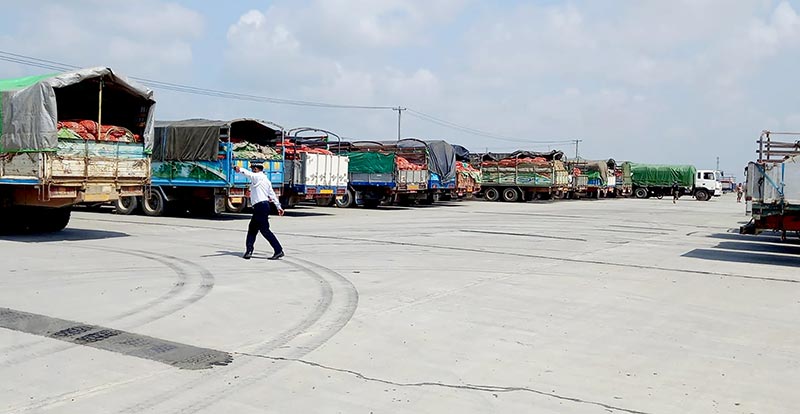 DMG Newsroom
3 June 2021, Sittwe

Cargo trucks have been temporarily relocated to a bus terminal under construction in the Arakan State capital Sittwe's Shwepyithar ward, according to U Than Tun, a member of the Arakan State Administration Council.

Cargo trucks had previously been parked along the side of the road from the Yangon-Sittwe highway in Kandawgyi ward to an entrance signboard in Sittwe, but the trucks were being relocated due to increased traffic congestion and rising crime, he told DMG.

"Due to these undesirable factors, these trucks have been temporarily relocated to a bus terminal in the commercial park under construction in Sittwe," said U Than Tun.

"We have temporarily relocated the cargo trucks to the bus terminal for public convenience," he added." Currently, the cargo trucks have been temporarily relocated for 45 days, but we will make further adjustments as needed."

A resident living along Mayu Road said she was happy with the relocation because trucks were parked in the Kandawgyi area, where the road was narrow, and drivers were noisy at night.

"Since we have a shop, if there is a shortage of space for motorbikes to park, when we go to ask them [truck drivers] to remove their parked trucks, some people will speak calmly, but some will be rude," she said.

The Department of Road, which is part of the Ministry of Construction, has imposed a fine of K50,000 on parked cargo trucks, with some signs prohibiting trucks from stopping along the road in the past.

In Sittwe, passenger buses are parked at a highway bus terminal near Arkyeitawkone Hill, in front of the exit for Mingan ward. There is not enough space for trucks due to the increase in the number of vehicles at the highway bus terminal.