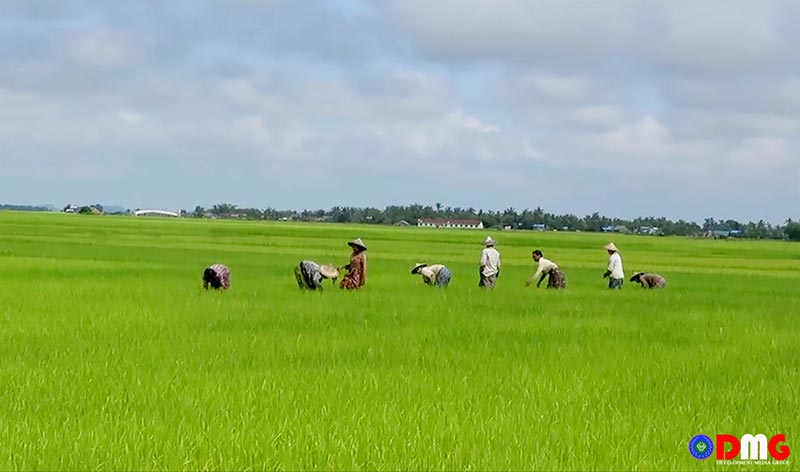 DMG Newsroom
7 June 2021, Sittwe 
With tens of thousands of paddy acres going uncultivated in recent years due to conflict, Arakan State consumers are facing higher rice prices at the same time that the state's rice production has fallen, according to U Shwe Tun Aung, chair of the Arakan State Rice Federation. 
Arakan State farmers could not grow monsoon paddy on more than 60,000 out of over 1 million acres between 2018 and 2020 due to armed conflict between the Myanmar military (Tatmadaw) and Arakan Army, according to the Arakan Farmers' Union. 
Farmers said paddy could not be grown on the affected acreage due to clashes near their villages and deployment of Tatmadaw troops near their farmland. 
The price of shwebo paw san hmway paddy, which is grown in Arakan State, has risen from about K800,000 per 100 bushels in 2020 to about K950,000 in 2021, U Shwe Tun Aung said. 
Since Arakan State's rice production has decreased over recent years, consumers have had to buy the staple grain from other parts of Myanmar at higher prices, said a housewife in the state capital Sittwe. 
"I want to eat rice grown in our state. But the demand is higher than supply ... so we have to pay higher prices for the rice imported from other parts of Myanmar," she said. 
Tens of thousands of uncultivated paddy acres are spread across Mrauk-U, Minbya, Myebon, Ann, Kyauktaw, Ponnagyun, Rathedaung, Maungdaw and Buthidaung townships in northern Arakan State, which are among the state's most fertile lands. 
U Maung Aye Hla, a farmer from Tinma village in Kyauktaw Township, said most farmers in northern Arakan State are internally displaced people (IDPs) who could not grow paddy this year because they were unable to return home. 
"We are now taking shelter in Kyauktaw [town] as refugees. So, we cannot grow paddy. We can grow paddy when we arrive back at our home," he said. 
Rice traders predicted that prices would continue to rise if IDPs are not able to get back to their farmlands and the acreage of cultivated paddy in Arakan State can not be expanded this year.   
The Arakan State Rice Federation will hold talks with the Arakan State Administration Council and plans to provide help for farmers based on the outcomes of those discussions so that paddy can be grown on more IDPs' farmlands.  
IDPs have asked that clashes be avoided near their villages and that troops deployed near their farmlands be withdrawn so that they can grow paddy without fear or risk to personal safety.