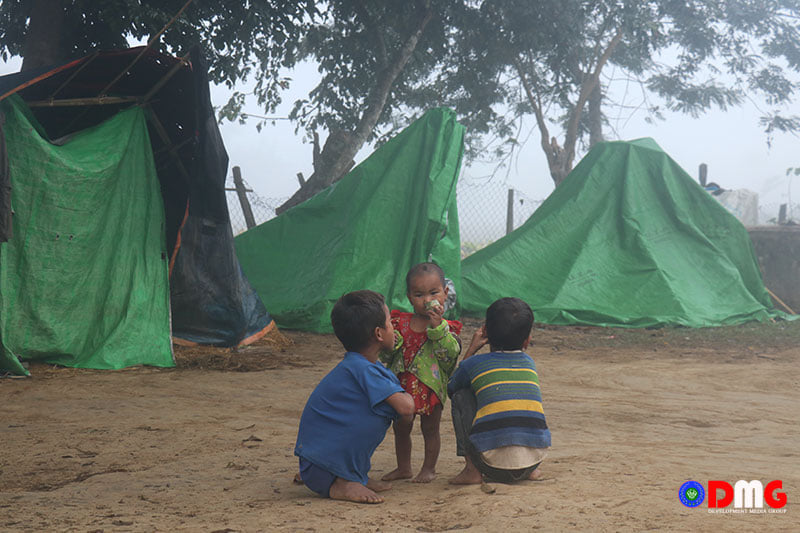 DMG Newsroom
9 June 2021, Sittwe

In Arakan State, about 200 temporary shelters for internally displaced people (IDPs) that were destroyed by a recent storm have not yet been rebuilt, according to IDP camp managers.

A total of 137 temporary shelters in Sin Baw Kaing IDP camp, Mrauk-U Township, have not been repaired or replaced yet due to financial difficulties, and only five shelters that were completely destroyed could be rebuilt so far with the money contributed by donors.

"Families from destroyed shelters have repaired the structures themselves as much as they can, but these structures can be used just for a short period. Shelters need to be strong enough to face wind and heavy rain as monsoon season has arrived. IDPs cannot live in these shelters if these shelters are not rebuilt. So, we are waiting for donors," said U Nyi Pu, Sin Baw Kaing IDP camp manager.

Temporary shelters at the Sin Baw Kaing, Nyaung Chaung, Sa Nyin and Kan Htaung Gyi IDP camps — all told some 200 structures — were destroyed in a storm that hit Arakan State on May 25.

Sayadaw U Arsarya, in-charge of Sa Nyin IDP camp, said family members from 10 storm-hit shelters at their IDP camp are currently staying at nearby relatives' houses as there is no bamboo, palm thatch or similarly flimsy timber to fix up the destroyed shelters.

"As these temporary shelters are old, they were destroyed by strong winds. Now, family members from storm-hit shelters are staying at nearby houses. As the shelter does not have enough space for a family, living together is very difficult for families," said the Sayadaw.

U Shwe Baw Sein, chairperson of the Rakhine Ethnics Congress (REC), said financial aid is needed to rebuild the storm-hit shelters, and the local military council has not offered any plan yet to rebuild them.

"Although the current government has authority, maybe there is no permission or instruction from their superiors. If they do it, they can face challenges, budgets and difficulties," he said. "In my opinion, although they have an office here as a department, they haven't any authority to do it. I think that even if they want to do it, they can't because they haven't been given full authority by their superiors such as state-level, region-level and ministerially."

In addition to accommodation difficulties, IDP families with children are struggling to provide the school uniforms, stationery and other school supplies expected of returning students, with classes resuming at primary, middle and high schools this month.
DMG phoned U Than Tun, a member of Arakan State Administration Council, seeking comment on the IDPs' unmet needs, but he did not respond to the call.

There were more than 200,000 IDPs in Arakan State at the peak of the two-year conflict between the Tatmadaw and Arakan Army (AA), with some having returned to their homes since a cessation of hostilities in November 2020. Currently, more than 100,000 IDPs are sheltering at displacement camps, according to the REC.