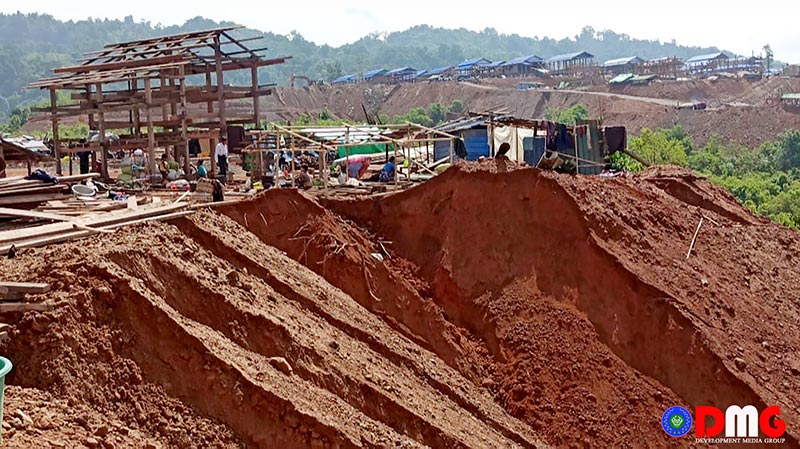 DMG Newsroom
10 June 2021, Thandwe
Yay Kaut and Puyit villages, which were moved because they were located in a hydropower project area in Thandwe Township, have been largely re-established elsewhere but building works have not yet finished due to financial difficulties.
The Tha Htay Chaung hydropower dam project was started in 2008. Yay Kaut and Puyit villages were slated for relocation due to their proximity to the dam, with the former government vowing to assist with the resettlement process, including building new homes for the affected villagers.
But now, with the monsoon season having arrived, construction of some homes has not been completed due to difficulties withdrawing the budgeted funds, said U Aung Gyi, a 100-household head in Yay Kaut village.
"About 60% of houses from the two villages have roofs and walls. About 40% of houses have not finished roofing, just finished setting pillars. The main problem is budget. In our village, 30 villagers have not gotten 30% of the financial aid so far due to the difficulty of taking out money at banks," he said.
The number of houses relocated from these two villages totals 461, and villagers say they have faced financial hardships, including joblessness, since the move.
Heavy rains caused the collapse of river banks in the new village on April 29, and villagers have faced difficulties as building works for their houses have gone unfinished during the monsoon season, said Ko Win Naing Tun, a local from Yay Kaut village.
"Our house has not been roofed though there are pillars to put the roof on. I have no money," he said. "We have faced difficulties as there is no roof. We have to move things that can be damaged by rain to other houses. We have currently put tarpaulin on the pillars. We have already got 30% of the financial aid given by the government but it is not enough."
He said responsible people told him that they could not say definitively when the rest of the money would be made available as it was difficult to withdraw cash from banks.
U Aung Gyi said villagers whose relocation funding allocations have not been met needed the cash quickly as monsoon rains continue to make life in the new village difficult, affecting the roads and foundations of their new houses.
DMG phoned U Kyaw Aye, assistant director of the Tha Htay Chaung hydropower project, seeking comment on the government's plans for villagers' accommodation, but he did not respond to the call.
The dam is slated for completion in the 2025-26 fiscal year.