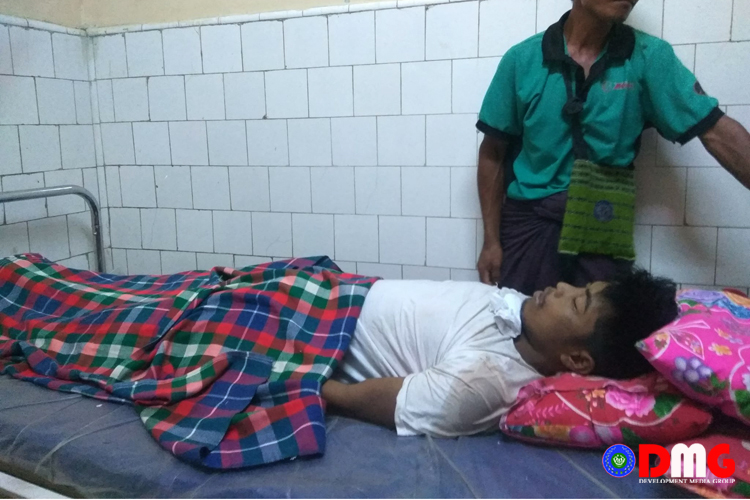 Khaing Roe La | DMG
July 1, Sittwe

A local resident from Pauk Taw Pyin village in Mrauk-U Township, who had been detained and interrogated by the Tatmadaw under the suspicion of being a member of the AA, died on the evening of July 1 while he has been in intensive care at Sittwe hospital.
Ko Zaw Win Hlaing, 28, was arrested on 20 June on the way to his village Pauk Taw Pyin. He was sculpturing a Buddha image at Waythali village in Mrauk-U Township.
He was first sent to Kyauktaw hospital but was later transferred to Sittwe hospital on 30 June because injuries were very serious. He was beaten violently during his detention and interrogation, his mother Daw Thein Nu Sein said.
"He was taken to hospital because of severe injuries to both of his knees. He said that soldiers packed stones in a longyi and beat his back and chest with the stones. They jabbed his elbow and knees with needles, his stomach also received some injuries," the mother said. 
Before his death, he could not eat and speak well because he was vomiting blood, family members said.
The DMG contacted a spokesperson of the Tatmadaw about the case, Maj-Gen Tun Tun Nyi from the Tatmadaw True News Information Team responded that the Tatmadaw does not instruct soldiers to beat and torture detained people.
"We never inflict physical pain on purpose. But, officials involved with the detention will know the details of the situation, so I'd suggest you talk to them. What I can say is the Tatmadaw does not instruct soldiers to beat people and we have never done such actions. But, there are some different situations," he said.
The Tatmadaw arrested eight people including Ko Zaw Win Hlaing near Waythali village on 20 June, and released a statement about the arrest and said they were arrested under suspicion of being members of the AA. 
Daw Thein Nu Sein, mother of Ko Zaw Win Hlaing, said: "My son is just a construction worker. He is not a member of the AA. I'd like state leaders to know the truth."
Another detainee, identified as Ko Nay Myo Tun, died on 24 June during detention. He was also from Pauk Taw Pyin village and one of eight villagers arrested by the Tatmadaw. The Tatmadaw responded to some media groups that he died at the hospital after he was sent there for medical treatment.
The eight detainees were granted remand at Kyauktaw township court on 25 June. They have been charged under the Counter-terrorism Law and detained in township police custody.