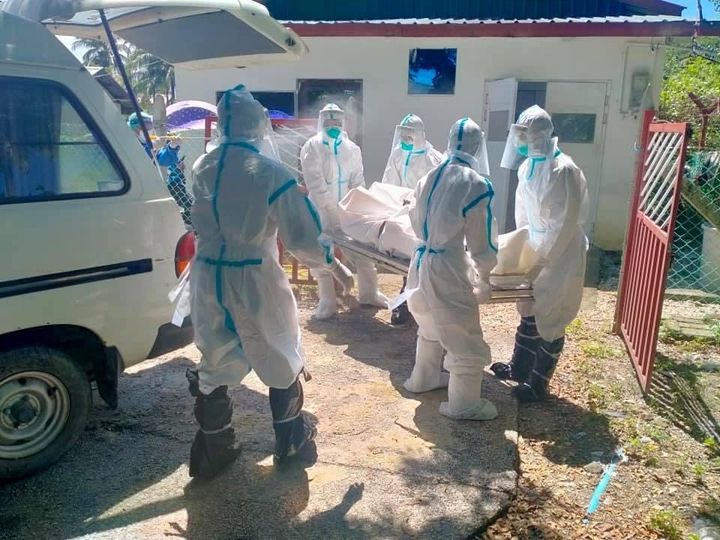 DMG Newsroom
21 July 2021, Sittwe 
On Facebook and among civil society, criticism is mounting of the Arakan State military council, which has maintained that there is enough oxygen to meet the state's medical needs as shortages due to the Covid-19 pandemic have been reported across Myanmar in recent days. 
Arakanese civil society groups and the public have criticised the current situation, saying assessments asserting the adequacy of the state's oxygen supply were not reflective of the reality on the ground in Arakan State, including in the capital Sittwe. 
"The virus infections are getting worse by the day in Arakan State. In such a worsening situation, there is a lack of oxygen for virus patients. Even now, we can see many people suffering from oxygen shortages at Sittwe General Hospital. But the authorities can do nothing about it," said Ko Than Hla, a member of the Rakhine Youth New Generation Network. 
U Hla Thein, a spokesman for the Arakan State military council, told a news conference on July 14 that there were enough oxygen cylinders in every township in Arakan State, adding that there was no need for the public to worry about the 02 supply. 
"Arakan State officials say there is enough oxygen for patients with the virus and that there is nothing to worry about, but they can say nothing about the current problems," Ko Than Hla said. "Do they not anticipate the difficulties that will arise in the current situation?" 
U Zaw Zaw Tun, secretary of the Rakhine Ethnics Congress (REC), said officials' comments indicated a lack of foresight and awareness of the situation on the ground. 
"Arakan State officials say there is enough oxygen for patients with the virus and not much to worry about. They are talking about the current situation, and if it gets worse, it will be different," he said.  
"What I found is that they are unaware of the actual situation on the ground and have little foresight on the potential dangers ahead, and that they are speaking according to the military council's desire." 
U Hla Thein, who is the information officer for the Arakan State military council, used an interview with the state Information and Public Relations Department to push back on critics spreading what he said was "false information and worries." 
"There has been a flurry of reports on social media, such as Facebook, that the government is running out of oxygen. People should not be disturbed by false information and worries. We are releasing the truth," U Hla Thein said. 
He said four civilian hospitals and two military hospitals in Arakan State were producing 138 oxygen tanks a day. 
Despite those assurances, two women infected with Covid-19 died in Taungup Township on July 19, reportedly due to lack of oxygen. 
As of July 20, a total of 1,702 coronavirus cases and 66 deaths were reported in Arakan State during the pandemic's ongoing third wave, which began in May.