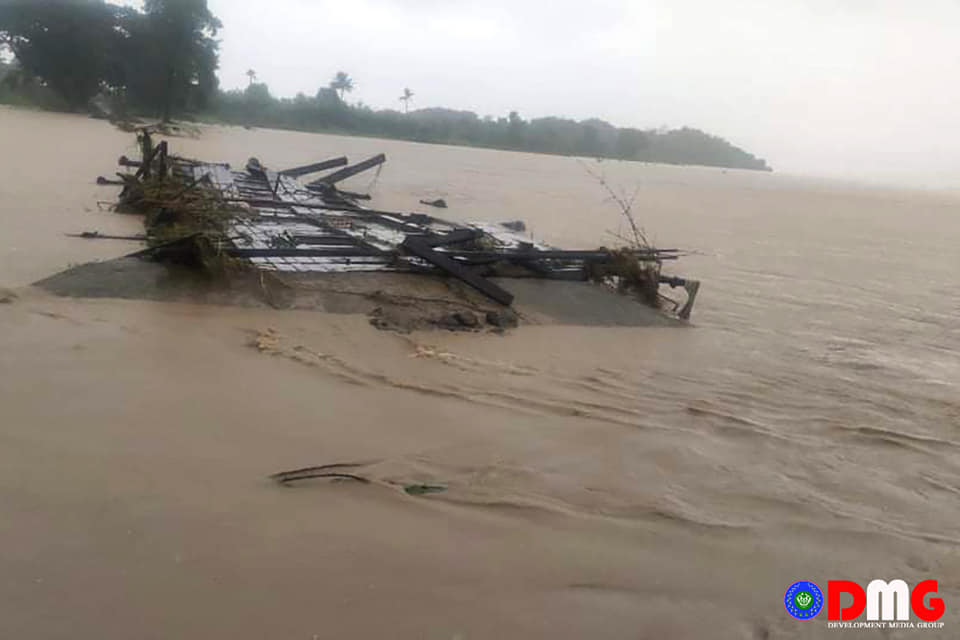 DMG Newsroom
28 July 2021, Maungdaw 
Four inter-village bridges in northern Maungdaw Township, Arakan State, have been damaged or destroyed by flooding in recent days, making it difficult for people from more than 30 villages to travel, with affected locals reportedly in need of food as forecasts call for more rain. 
"Four bridges were damaged by the floods, making it impossible to travel to the northern 30 villages from Wet Kyein village. Now the locals have to eat what they have, but in time they will face food shortages," said U Maung Thein Nyunt, an administrator of Tamanthar village. 
Three inter-village bridges were washed away by floodwaters on July 27 and the Wet Kyein Bridge was damaged by floods on July 28, making vehicle traffic across it sketchy at best. 
"The floodwaters also damaged the Wet Kyein Bridge beyond Kyein Chaung, making it difficult for cars to cross the bridge. All roads are flooded and the vehicle cannot go anywhere," said Ko Myint Thein, a truck driver plying the route to northern Maungdaw Township. 
More than 500 houses in nine villages have been affected by the floods in northern Maungdaw Township since July 27. 
A total of 1,757 flood victims from nine inundated villages will be provided with two boxes of rice and additional food supplies, enough for one week, according to the township Department of Disaster Management, which is part of the Ministry of Social Welfare, Relief and Resettlement. 
"We are going to provide rice to the flood victims. Village administrators will be contacted in Kyein Chaung village to provide assistance to the flood victims," said U Maung Maung Gyi, assistant director of the disaster management department. 
U Hla Tun, deputy director of the Department of Meteorology and Hydrology, told DMG that more rain is expected in Arakan State over the next two days, with heavy rains expected in some parts of the state. 
"The monsoon is currently at its peak of the current monsoon season. As the monsoon strengthens, low pressure areas will form. The two are interrelated. The current rainfall is due to the low pressure area," he explained. 
Venerable Tay Zeinda, the abbot of Theingon Monastery in southern Arakan State's Thandwe Township, said flooding from a deluge that set a new rainfall record there on July 27 had forced many local people to evacuate.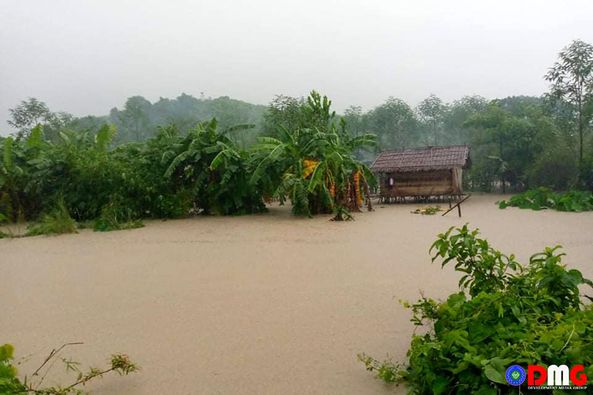 "This time it was a rare flood. In some low-lying areas, the water level rose to about 15 feet. Even in elevated places where the water never rises, the water has risen," the monk said. 
Floodwaters are receding in some places, but Thandwe residents are worried that the water level will rise again if it continues to rain without a reprieve in the forecast. 
About half of the camps for internally displaced people (IDPs) in Arakan State are flooded due to heavy rains, said Ko Zaw Zaw Tun, general secretary of the Rakhine Ethnics Congress (REC). 
"There are more than 100 IDP camps in Arakan State. Many IDP camps in Mrauk-U, Minbya and Myebon townships are inundated. IDP camps in Rathedaung, Buthidaung and Ponnagyun townships were also reportedly flooded. The exact list is still being compiled," he said, adding he was concerned that if the number of donors to the displacement camps in Arakan State dwindled and the rains continued, it would make life more difficult for the IDPs.