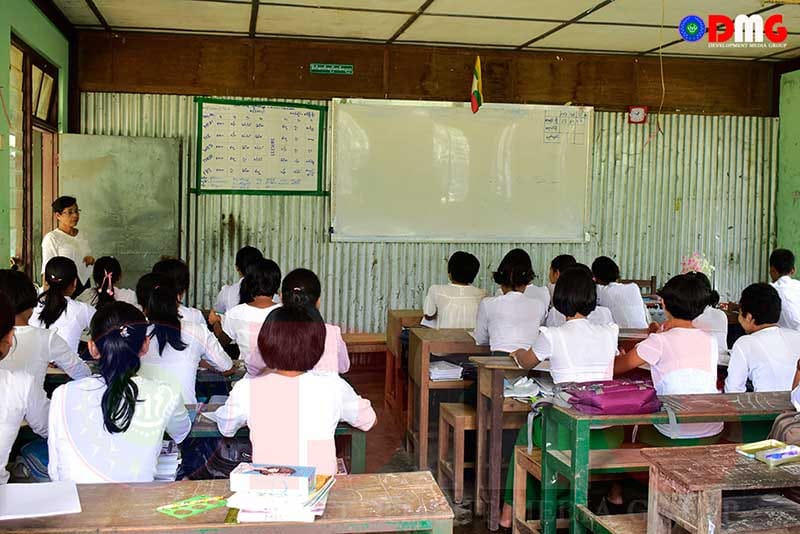 DMG Newsroom
2 August 2021, Sittwe 
Ethnic literature teachers working as daily-wage staff in Arakan State have not yet received their salaries for July, according to the teachers. 
Despite the closure of schools in July 2020 due to a second wave of Covid-19, the literature instructors had been receiving regular salaries, but have yet to be paid for last month, said Ko Aye Min Tun, an ethnic literature teacher in Thandwe Township. 
"When I went to collect my salary last payday, I was told that I wouldn't be paid because schools were closed due to the Covid-19 epidemic. There are over 100 ethnic literature teachers in Thandwe. We know that teachers in other states and regions are not paid. Only teachers in Taunggyi are paid a salary for 12 days," he said. 
The ethnic literature teachers are government-appointed daily wage earners who earn K4,500 per day on school days. 
Daw Khin Mar Yi, another ethnic literature teacher in Thandwe Township, said that if she did not receive her salary, she would face many hardships during the Covid-19 crisis. 
"Some teachers have to buy food because it is far from their home school. Some teachers have to come to school with many difficulties. Our salary is around K100,000 for a whole month, so we expect this small amount of money," she explained. 
U Tin Thein, the Arakan State education officer, said the July salaries of daily-wage employees teaching ethnic literature had not been paid because of an apparent funding bottleneck in Naypyidaw. 
"The Ministry of Education's head office in Naypyidaw has not yet paid the salaries of ethnic literature teachers. I think there are a lot of issues at the head office, because we have yet to receive a small amount of money submitted to the head office for office work here," he said. 
Basic education schools in Arakan State were reopened on June 1 but closed again on July 9, initially for a period lasting two weeks, due to the pandemic's ongoing third wave. They have yet to reopen, however, with the Central Committee on Prevention, Control and Treatment for Covid-19 subsequently extending the closure by another two weeks, through August 8.