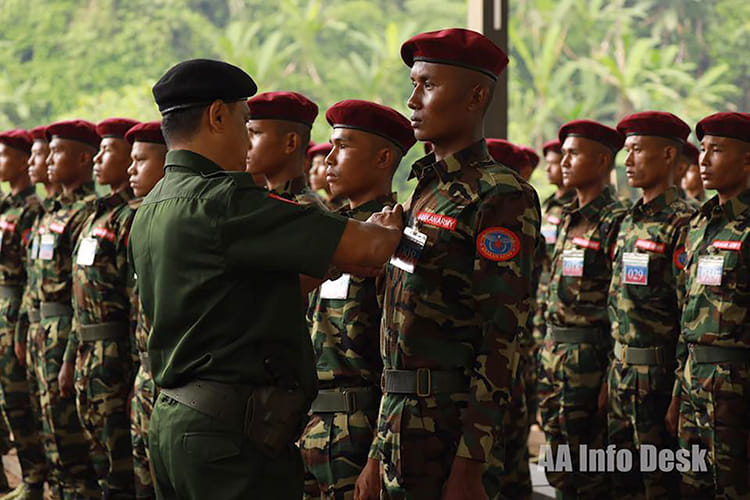 DMG Newsroom
3 August 2021, Sittwe 
The United League of Arakan, the political wing of the Arakan Army, has announced plans to establish a judiciary parallel to the existing legal system in the state, saying it would be accepting complaints in an effort to provide another path to justice for the wronged.  
In an August 1 statement, the ULA said it would take complaints lodged via email, the mobile app Telegram and the Russian social media platform VK, with broad scope for seeking redress on matters ranging from land disputes and theft to violence and other law-breaking.   
"The intention is to get justice for the people in Arakan State," said U Khaing Thukha, spokesman of the Arakan Army. 
The complainant's information and identity will be protected while an investigation into the complaint is undertaken, the ULA said. Complaints can be lodged by the aggrieved party, a relative, or eyewitnesses, it added. 
U Khaing Kaung San, director of the Wan Lark Foundation, said he welcomed the ULA's announcement. 
"In some townships, people cannot file complaints with the judiciary and law enforcement sectors under the current military council. ... For example, people cannot lodge their complaint at the police station in Ponnagyun town. So, a place where people can file their complaint is required for the people," he said. 
U Tun Thar Sein, a former Arakan State lawmaker for Mrauk-U Township, said he also supported the ULA's latest foray into governance.  
"With the intervention of ULA/AA, the community will be stable and peaceful. And I think that the number of thefts, rapes and murders will decrease accordingly," he said. 
The ULA has already drafted a law on the judiciary, U Khaing Thukha told DMG, in effect establishing a Justice Department separate from the existing judicial system overseen by Myanmar's military regime. Courts have been set up from the village-tract level up to district level, and wrongdoers will be prosecuted in accordance with the law drafted by the ULA/AA, U Khaing Thukha added. 
The creation of a parallel ULA-administered legal system comes as the military and Arakan Army continue to maintain an informal ceasefire agreement. The nine-month-old truce was preceded by some two years of conflict that resulted in hundreds of civilian casualties and displaced more than 200,000 people.