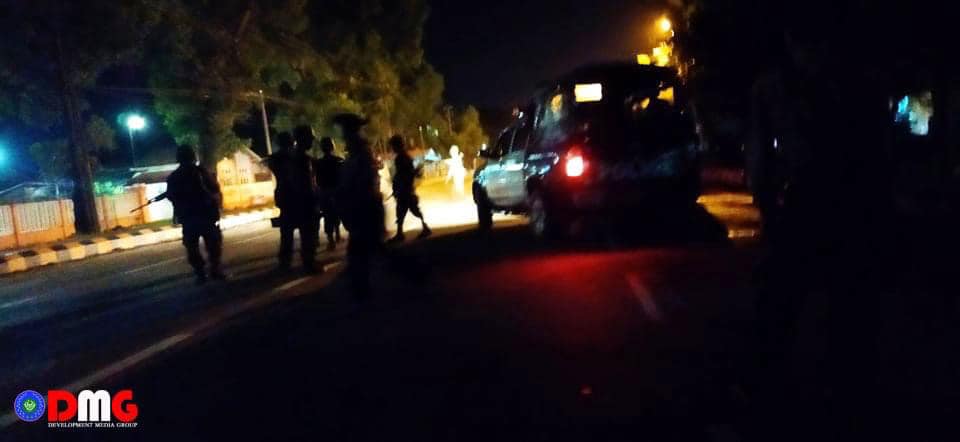 DMG Newsroom
7 August 2021, Sittwe

Joint teams of military, police and immigration personnel are stopping and checking vehicle traffic in some Arakan State townships in the afternoons and evenings, raising concerns among residents.

Since Friday afternoon, the joint teams have been checking people in Min Gan ward, at the Ministry of Electricity and Energy Zet Gyi roundabout, and near the old bus terminal in the Arakan State capital Sittwe, residents said.

"There is a joint team near our home," said a resident of Min Gan ward. "Some motorbikes have to open the under-seat box to show them. Some are told to sit at the roadside. I do not know what they are checking. It is the first time I saw the check near our home. It started last night [August 6]. There are two military trucks."

She added: "We are staying in our house and dare not speak loudly as we are scared of them."

For months, a joint team has been deployed near the old Sittwe bus terminal every day for security purposes, but they did not conduct checks and would leave the area at about 6 p.m. — until recently.

They did not depart until after 9 p.m. on Friday night, said a resident living near the bus terminal.

"I saw three military trucks. They told people to open the under-seat boxes of their motorbikes," he said.

In Kyaukphyu town, joint teams are making sure people on motorbikes and in automobiles are wearing face masks, telling people to open the under-seat boxes of their motorbikes, and checking some people's cellphones, said a resident who did not want to reveal his identity.

"They started the checks in the morning. They travel around the town and conduct checks at different sites," he said.

"If they are [enforcing] Covid-19 regulations, they should check whether people are wearing masks or not. Now, as they're checking the under-seat boxes of motorbikes, people are worried about their safety."

The phone and vehicle checks have left people questioning the inspections' purpose amid the ongoing Covid-19 outbreak, when authorities are otherwise seeking to limit in-person interactions to curb the spread of the virus.

Checks by joint teams of military, police and healthcare personnel are also being conducted in Mrauk-U and Buthidaung towns, where they are providing masks as well as reminding people to stay at home and adhere to Covid-19 preventive regulations.

DMG phoned the Arakan State minister for border affairs and security, the spokesperson for the Arakan State military government, and the Sittwe Township administrator, seeking comment on the vehicle checks in the state capital and elsewhere in Arakan, but they could not be reached.