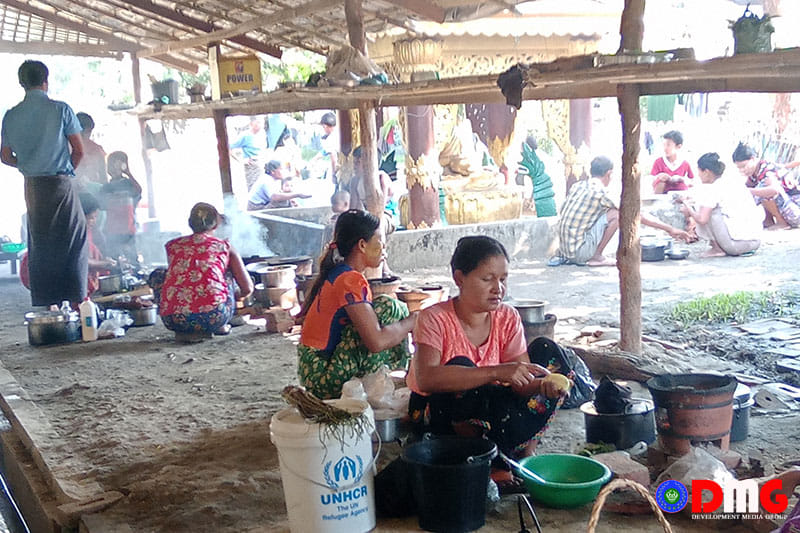 DMG Newsroom
9 August 2021, Sittwe 
Some IDP camps in Arakan State are facing food shortages as they have not been provided food supplies regularly amid concern about Covid-19 infections, according to managers of the camp. 
What's more, a Covid-19 case detected in a village near Nyaung Chaung IDP camp in Kyauktaw Township is a worrying situation for the IDPs there, said Ko Khaing Myo Aung, manager of Nyaung Chaung camp, which hosts more than 3,400 displaced people. 
However, IDPs are more worried about food shortages than Covid-19 infections, said Ko Khaing Myo Aung. 
"They are facing difficulty for their livelihoods because charity groups cannot donate regularly while the government does not provide food supplies regularly. They have to worry about the risk to their lives more from starvation than from Covid-19 infection," he said. 
There are reports of Covid-19 infections at IDP camps in Mrauk-U, Kyauktaw and Buthidaung townships, where many of the displaced fled their homes during fighting between the Tatmadaw and Arakan Army over a two-year period from late 2018 to late 2020. 
Some IDPs from Wah Taung camp in Kyautaw Township, where more than 1,000 people are taking shelter, are sick and need financial assistance and food supplies, said U Sein Shwe Bu, manager of the camp. 
"The Ministry of Social Welfare, Relief and Settlement provides only rice. But they provided rice for June in July. That is the latest provision from the ministry. As all are in trouble, we have to try to make do with what we have," he said. 
Some IDPs said they were facing food shortages because they have not received provisions from the World Food Programme (WFP) for more than two months, and the food supply from the ministry is not received regularly. 
U Khaing Kaung San, director of the Wan Lark Foundation, said the difficulties of IDPs could be resolved if foreign organisations providing aid for IDPs in Arakan State worked with civil society organisations. 
"International organisations should work with CSOs. The international organisations cannot undertake their activities as quickly as possible because they have to wait for permits for access to IDP camps in different townships. If they transfer their load to some CSOs, their challenges will be resolved," he suggested. 
"They can provide aid for the IDPs quickly and easily if they connect with each individual group in each individual township, rather than connecting with only one group for different townships," he said. 
Among more than 100,000 IDPs in Arakan State, many are in need of Covid-19 prevention equipment (PPE) and food supplies amid the pandemic's ongoing third wave. 
U Hla Thein, spokesperson for the Arakan State-level military council, said food supplies could not be provided regularly because of delays in withdrawing cash at banks and other challenges. 
Meanwhile, the military council is arranging to administer the Covid-19 vaccine to IDPs over 65 years of age. 
According to figures from the Arakan State Department of Public Health, Covid-19 cases had reached 3,246 and the death toll rose to 285 as of August 8.