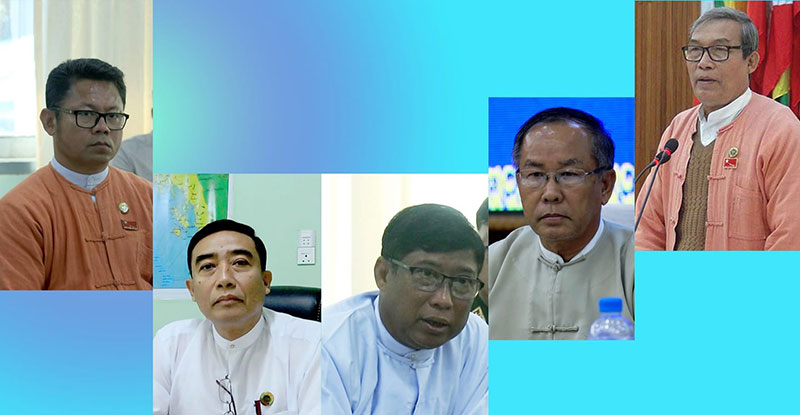 DMG Newsroom
9 September 2021, Sittwe 
Five ex-ministers for Arakan State who have been charged under the Anti-Corruption Law, including the detained former Chief Minister U Nyi Pu, appeared via video link for a court hearing in the state capital Sittwe on Wednesday, according to one of their lawyers. 
U Aung Sit Min, a lawyer representing U Kyaw Aye Thein, a former Arakan State economic minister, said the cases of the five former ministers were heard and a letter of attorney was sent to the court. 
"The ex-ministers have been sued in three cases. We have submitted a power of attorney to the court for the case against U Kyaw Aye Thein," said the lawyer. 
In addition to U Nyi Pu and U Kyaw Aye Thein, the former Minister for Electricity and Transport U Aung Kyaw Zan; the former Minister for Agriculture, Livestock and Mining U Kyaw Lwin; and the former Minister for Municipal Affairs U Min Aung have been charged under the Anti-Corruption Law. 
The five ex-ministers have been indicted by U Kaung Zaw Thant, an official from the Anti-Corruption Commission. 
They are accused of misappropriating funds in relation to a low-cost construction project in Gwa Township, as well as violating tender rules and regulations, and abuse of power.  
The military-owned Myawaddy TV said on August 12 that arrangements were being made to prosecute the former Arakan State ministers under Section 55 of the Anti-Corruption Law, which is punishable by up to 15 years in prison. 
Of the five accused ministers, U Nyi Pu and U Min Aung have been detained since February, following the military coup that toppled all 14 of the country's state and regional governments. U Nyi Pu is also facing charges under Section 505(b) of the Penal Code, while U Min Aung was also charged under Section 19 of the Peaceful Assembly and Peaceful Procession Law and Section 25 of the Natural Disaster Management Law. 
U Nyi Pu, U Kyaw Aye Thein, U Aung Kyaw Zan and U Kyaw Lwin are currently being detained in Sittwe Prison and U Min Aung is being held in military custody in Taungup Township. 
"He [U Min Aung] was taken to the Taungup Township Court from LIB [Light Infantry Battalion] 544, which detained him to handle the case. He is facing trial in two cases at the Taungup Township Court," said Daw Theingi Maung, a lawyer representing U Min Aung.
The next court hearing for the five former ministers has been rescheduled for September 21 and 22.