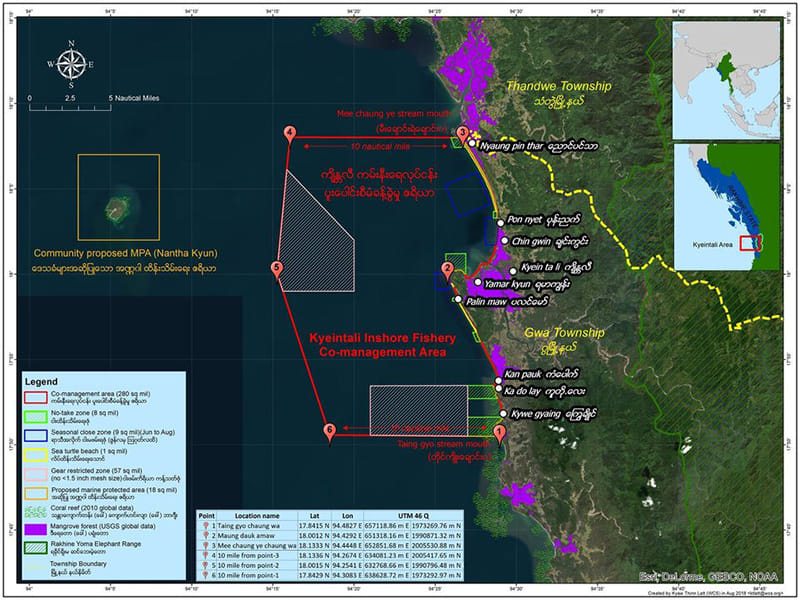 DMG Newsroom
19 September 2021, Sittwe 
U Thaung Htut, marine conservation manager for the Wildlife Conservation Society (WCS Myanmar), said the establishment of marine protected areas in Arakan State has been delayed due to the ongoing Covid-19 pandemic and political upheaval in the country. 
The Forest Department, WCS Myanmar and the Rakhine Coastal Region Conservation Association (RCA) are working together to establish marine protected areas on the islands of Gwa, Nantha and Kyun Nantha in Arakan State. 
"We have conducted experiments to identify these areas as conservation areas by measuring and studying biodiversity. There is still a lot to do," he said. 
The project was originally expected to be completed within two years, but has been set back by the pandemic and political turmoil following Myanmar military's February 1 coup. 
Dr. Maung Maung Kyi, chairman of the RCA, said the government's interest, rule of law and public participation were crucial in successfully establishing marine protected areas. 
"Once marine protected areas are established, man-made environments will be restored. There will be room for biodiversity. As these recover, people will have more food to eat and their livelihoods will improve," he added. 
Overfishing by humans, the use of landmines and unsustainable fishing practices have imperiled ecosystems and led to the extinction of important species of fish and other marine wildlife, as well as damaging underwater reefs. 
Currently, efforts are underway to conserve as marine protected areas the two largest mangrove forests in Myanmar: Wun Paik and Kyeintali Island. 
DMG contacted the Thandwe District Forest Department office by phone regarding how the department was handling the matter, but a staffer there said they would reply later. 
Marine conservation areas are planned for six coastal areas in Myanmar including the three islands off the Arakan State coast, according to WCS Myanmar.