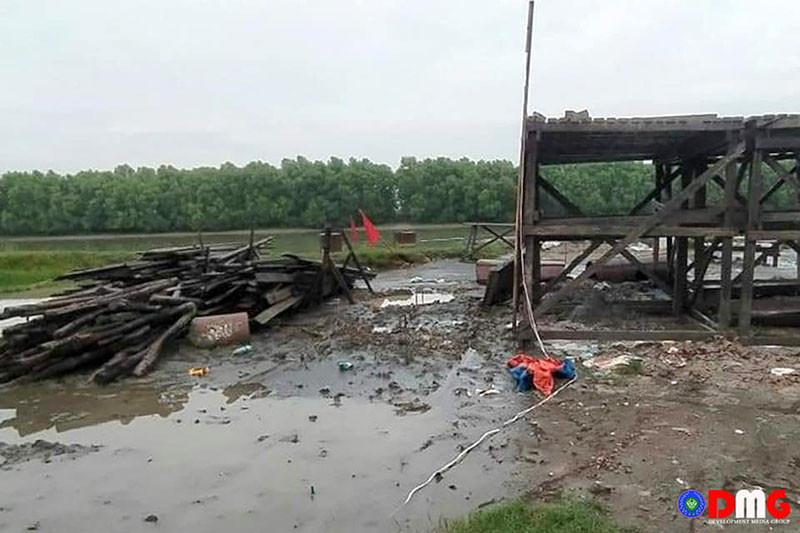 DMG Newsroom
21 September 2021, Sittwe

Construction work on the Tawkan-Warbo bridge in Sittwe Township, Arakan State, started in 2019, but funding has not yet been allocated to complete the bridge, according to the Department of Rural Road Development.

"The main challenge is lack of funds. There are a lot of bridges above 180 feet long in Arakan State. So, the fund is allocated little by little to fund all construction works of the bridges," said U Tun Lin Maw, director of the department.

Construction of the bridge cannot be resumed because of an inadequate budget allocation, he explained.

The bridge crossing the creek between Warbo and Tawkan villages will span 450 feet when it is completed.

"The bridge was not included in the budget allocation this year. So, if the budget of K90 million for the bridge is allocated in the 2020-2021 budget year, the Department of Bridges will continue the construction work. As the bridge is over 450 feet long, our department has to transfer the fund to the Department of Bridges," U Tun Lin Maw said.

U Aung Kyaw Hlaing, a resident of Tawkan village, said he was worried that construction work on the bridge would be halted.

"There are just a few piles since 2019. I learnt that it would be built to be completed in 2021, but it's been left after building a few piles," he said.

U Tun Hla, a resident of Warbo village, said completion of the bridge would facilitate development.

"After the bridge is built, the road between Tawkan and Warbo will be connected. So, things will be more convenient for health, education and social affairs. Now, transportation is not safe during the rainy season," he said.

About 9,000 people are living in villages near the area where the bridge is being built.