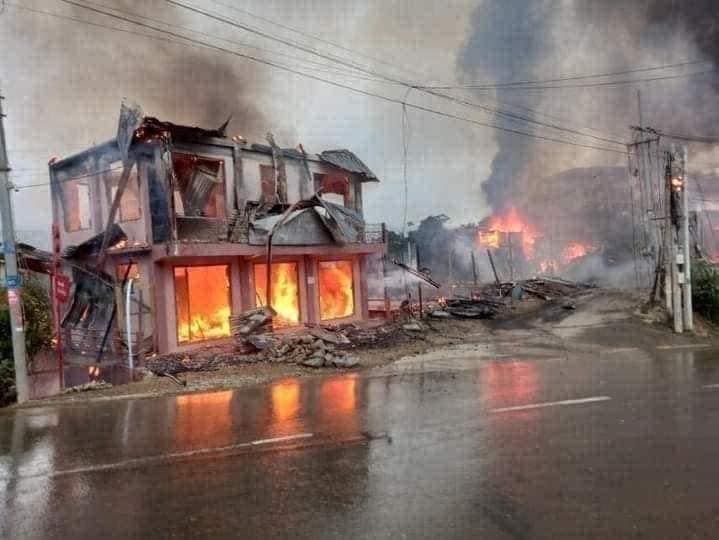 DMG Newsroom
25 September 2021, Thantlang (Chin State) 
Fighting in Thantlang, Chin State, has forced thousands of people to flee their homes, reportedly leaving fewer than a dozen people, including three elderly, in the town. 
Residents of Thantlang fled the scene of a clash between junta troops and the Chinland Defense Force (CDF) on September 18, according to locals. 
At present only 10 people, including three elderly people, remain in Thantlang, said one of the survivors, U Lawn Bik. 
"Only 10 people remain in Thantlang. These 10 people, including me, live in two houses," he told DMG. "When I looked out into downtown Thantlang in the morning, I could not even go alone because it was so quiet. We are eating what we have at home. We decided to stay at home no matter what happens." 
Of the 10 people left, five are women and five are men, he added. There were more than 8,000 people in Thantlang, and most of the residents have fled to nearby villages since the September 18 clashes, said Daw Mary, who is one of the displaced. 
"The village where we are now taking shelter provides food and drink for us. I left my house and farm in Thantlang. I didn't get to take anything from home because I had to run away suddenly. I also had to leave my pets at home. It is unfortunate that I've had to leave my home," she told DMG. 
Internet access has been cut off in several Chin State townships including Thantlang since the evening of September 23, according to locals. 
A local man in Thantlang, who spoke on condition of anonymity, told DMG that he believed the internet outage was an effort by the military regime to block the public's access to information. 
"I think the junta troops want to launch an offensive against Chin anti-coup resistance fighters. I think that's why the Myanmar military cut off the internet access in Chin State. I too have to flee from Thantlang now. Almost all Thantlang residents have already fled," he added. 
About 20 houses in downtown Thantlang were reduced to ashes in the fighting between junta troops and local militias. A Chin Christian pastor, Cung Biak Hum, was shot dead and his wedding ring was looted by junta soldiers, according to local people.