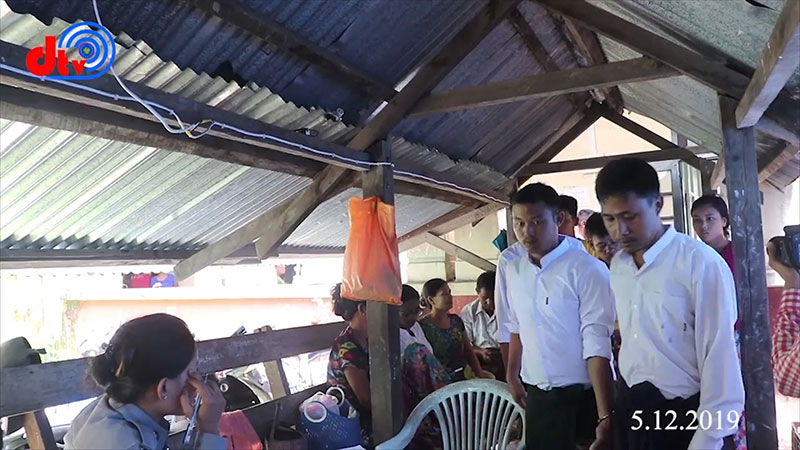 DMG Newsroom
2 October 2021, Mrauk-U 
A court is set to rule in an Arms Act case against 22 Lekka villagers in Mrauk-U Township who were arrested and charged for alleged affiliation with the Arakan Army (AA), according to a local law firm involved in the case. 
The Lekka villagers appeared before the court on October 1 and a ruling in the case is expected at their next hearing on October 7, said U Khaing Thant Zin, an information in-charge of the Min Htee Law Firm. 
"A letter of attorney was submitted to the court yesterday. At the next court hearing, an order will be issued as to whether or not they should be charged in connection with the case," he said. 
The Lekka villagers in Mrauk-U Township were arrested in April 2019 and have since been facing multiple charges under the Counter-Terrorism Law, and Section 21(a) of the Arms Act.  
Daw O San Sein, the mother of one of the villagers, Ko Tun Aye Kyaw, said she had come to Friday's hearing in hopes that there would be some kind of resolution to the case. 
"I came to the court hearing because I had not seen my son for a long time. The court didn't rule the order and rescheduled the next hearing. I borrowed money from others to come to the court hearing," she said. 
For months, family members have been hoping that loved ones facing Counter-Terrorism Law charges in relation to alleged AA links would be released after the junta removed the designation of the ethnic armed group as a terrorist group on March 11. 
More than 200 people were arrested and charged under the Counter-Terrorism Law after being accused of illegally sassociating with the AA during some two years of fighting in Arakan State, according to data from the Thazin Legal Institute. 
The military council has withdrawn some of the cases prosecuted under the Counter-Terrorism Law in Arakan State after it de-listed the Arakan Army as a terrorist organisation. For example, 17 cases of children under the age of 18 who were arrested on suspicion of illicit AA ties were dropped by the regime in May of this year.  
Still, more than 160 people arrested and charged under the Counter-Terrorism Law for alleged AA links have yet to be released, according to Arakan State civil society organisations.