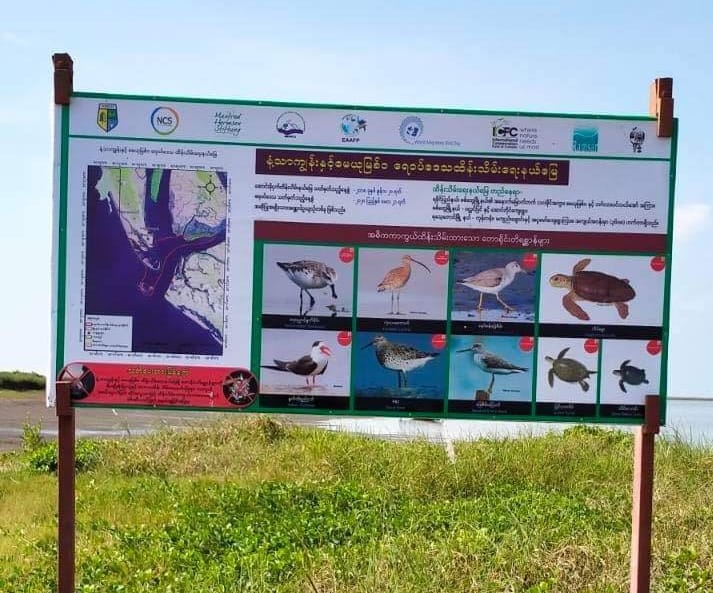 DMG Newsroom
13 October 2021, Sittwe 
More than 50 species of birds, including both migratory and endemic varieties, are facing extinction in Myanmar, according to a conservation group. 
The roster includes the red-listed spoon-billed sandpiper, Indian skimmer and sarus crane, which are all in danger of extinction due to reckless capture and kill practices. 
"There are more than 1,130 species of birds in Myanmar, including migratory birds and native birds. There are more than 50 endangered species of birds in Myanmar," said U Pyae Phyo Aung, executive director of the Nature Conservation Society-Myanmar. "The spoon-billed sandpiper and Indian skimmer found at Nanthar Island have been extinct [elsewhere] in Arakan State since 2018. There is also an urgent need to conserve the species of sarus crane in Arakan State." 
The spoon-billed sandpiper is a species from northeastern Russia that migrates to Myanmar over the northern hemisphere's winter months. 
U Pyae Phyo Aung said effective action should be taken against poachers in Myanmar in accordance with the law, as well as educating the public. 
"If the law is enacted but no action is taken at the grassroots level, nothing will be effective. Therefore, the relevant authorities need to take action in accordance with the law, while also educating the local people and cooperating with them. It is not possible to take action all the time under the same law. Locals also need to know how valuable [endangered species] are in order to conserve rare bird species," he told DMG. 
In order to prevent further killing of these birds, local communities and organisations, as well as governmental departments and authorities, must work together to conserve the endangered species, said Ko Yan Naung Soe, chairman of the Arakan Biodiversity and Nature Conservation Association. 
"Endangered bird species should be protected from extinction by the relevant authorities, and the community should be educated," he said. 
Under Section 19(a) of the Conservation of Biodiversity and Protected Area Law 2018, the law provides for a minimum sentence of three years and a maximum of 10 years' imprisonment for the killing of fully protected wildlife species.