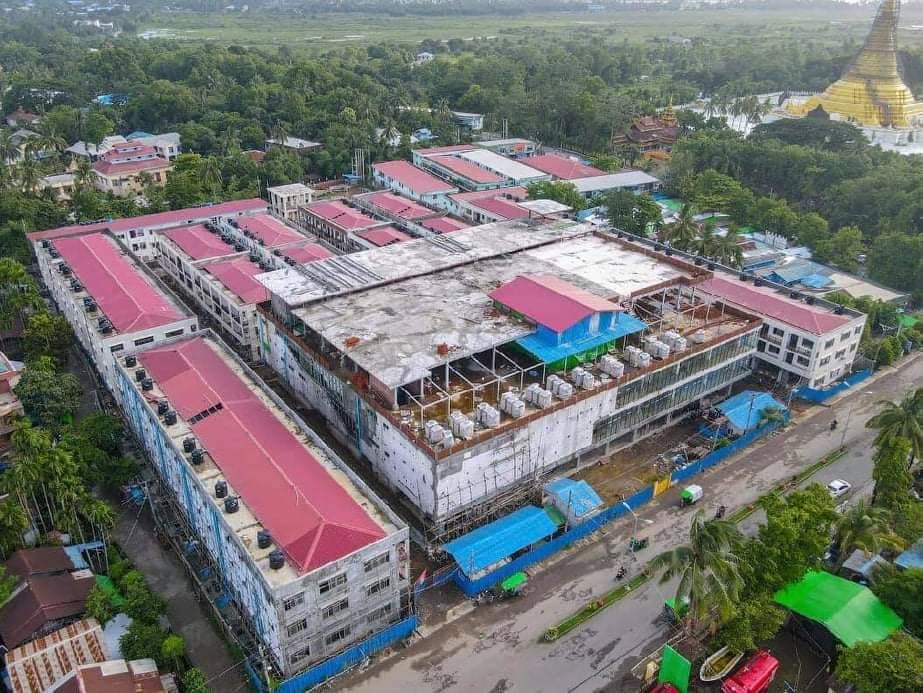 DMG Newsroom
16 October 2021, Sittwe

The opening of the May Yu Shopping Complex, which is under construction in the Arakan State capital Sittwe, is targeted for April of next year, according to U Tin Aung Oo, managing director of Western Shining Star, the company responsible for the development.

The Sittwe-based firm, along with Golden Green Company, are building the May Yu Shopping Complex, which will include a cinema, playground, supermarket, IT shops, gold and jewellery vendors, coffee shops, a rooftop garden restaurant and food court.

"We have had to negotiate with successive governments and vendors from the old market to develop the complex. We could drive a [first] pile in 2017 and construction started in September of that year," U Tin Aung Oo said.

The developers aimed to complete construction in two and half years, but the project has faced delays due to armed conflict and the Covid-19 pandemic, he said.

"The construction work has been completed about 85% at the moment. But it is delayed because some required items cannot be bought and the exchange rate is not stable," U Tin Aung Oo said.

"There are more than 300 shops and most of the areas are for the public. There are two cinemas and a playground," he said.

"Only shops will be sold and other spaces are for rental purposes," he added.

About 60% of the shops have been sold in advance, he said.

The opening of the shopping complex will enhance Sittwe as the state capital, said U Tun Thar Sein, a town elder.