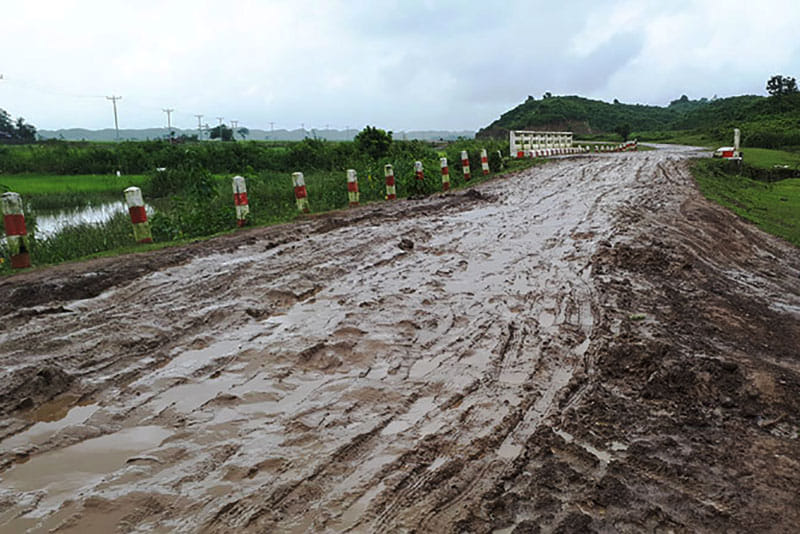 DMG Newsroom
14 November 2021, Ponnagyun 
The main road connecting Arakan State's Ponnagyun and Rathedaung townships was reclosed in the first week of November, local residents said. 
Personnel manning a military checkpoint on November 6 said the road was temporarily closed, according to a bus driver who asked for anonymity. 
"I do not know until when, nor why the road was temporarily closed," said the bus driver, who plies the road as part of his route. 
Motorists said vehicles passing military checkpoints near Painnaedaw, Letwaesar and Phetkya villages in Ponnagyun Township were told about the temporary closure of the road. 
During the armed conflict between the Myanmar military and Arakan Army, the road section was closed for more than a year, but had been reopened as the two sides went over a year without clashing. Hostilities briefly flared anew on November 9. 
Residents from more than 60 villages use the Rathedaung-Ponnagyun road and have to rely on a waterway instead when the land route is blocked, said Ko Kyaw Min Khaing, a resident of Rathedaung Township. 
"Both passengers and residents will face difficulties for their healthcare and business as the road is blocked. The road section is the main road for us to connect to all of Arakan State. If the road is blocked for a long time, there will be more difficulties for us," he said. 
Residents have to spend more time and money using the waterway while the road is blocked. Moreover, bus lines using the road will also struggle with their business operations if the road remains closed for a prolonged period, Ko Kyaw Min Khaing said.  
Another bus driver, who asked not to be named, said: "It is about a week that we cannot run buses. If the road is blocked for months, we will face difficulty with livelihoods." 
DMG phoned regime council spokesperson Major General Zaw Min Tun and Arakan State Minister for Security and Border Affairs Colonel Kyaw Thura seeking comment on the road blockade, but they could not be reached.