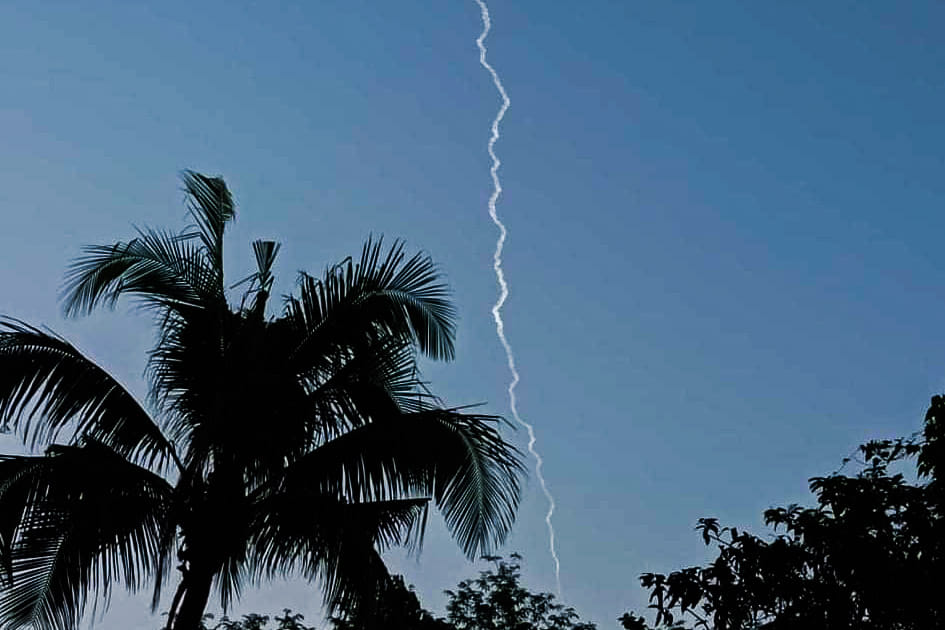 DMG Newsroom
23 November 2021, Manaung 
Extraneous pieces of a Chinese spacecraft crashed into the sea off the coasts of Arakan State's Thandwe and Manaung townships at around 5:30 a.m. on November 23, according to locals. 
Ko Aung Tun Lin, a resident of Manaung town, said he witnessed a flash of light fall from the sky and into the waters south of Manaung Island. 
"A beam of light passed through the north and fell into the sea south of Manaung town, causing two explosions and vibrations. I don't know what happened. No harmful sounds were heard," he said. 
The space debris came from a Chinese-launched satellite, and a warning was issued in advance urging boats and ships of all kinds to stay shoreside during a pre-dawn window of time when the satellite parts were expected to reenter the Earth's atmosphere. 
"I received a letter from the government warning ships and fishing boats not to go out to sea because of a possible falling satellite at around 5 or 6 a.m. today," said Ko Maung Maung Aye, the owner of a ferryboat plying between Manaung and Taungup. 
Local authorities reportedly notified the operators of ferryboats and fishing vessels that debris from the spacecraft could fall some 34 miles southwest of Thandwe Airport and 43 miles south of Manaung Airport. 
An unnecessary piece of a Chinese spacecraft also fell into the sea near Thandwe and Manaung townships on December 27, 2020.