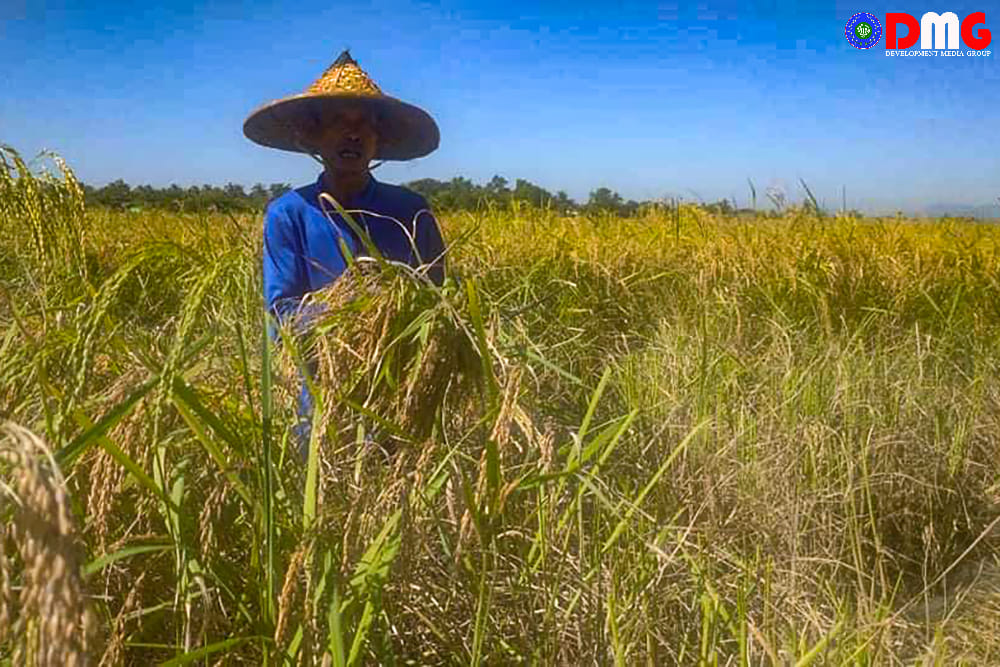 DMG Newsroom
25 November 2021, Sittwe 
Amid rising agricultural costs and low paddy prices, farmers may struggle to repay their loans even though this year's paddy yield looks to be above average, the Arakan Farmers' Union has warned. 
Farmers are generating small profits this year due to fertiliser price hikes and high labour costs, said U Myo Min Aung, a Central Committee member of the Arakan Farmers' Union. 
"For farmers, paddy yields are good this year but fertiliser prices and labour costs are higher. Everything is expensive for them to do cultivation," he said. "But the paddy price is not as high as they expected. So, it might be difficult to repay their agricultural loans." 
At 46 pounds per basket, 100 baskets of paddy currently fetches more than K500,000 ($279), said U Soe Naing, a farmer in Mrauk-U Township. 
"If the paddy price is higher than that amount, it will be a little more convenient for farmers," he said. "For farmers, the profit depends on the paddy price. They should be paid more than the current market price. Without higher prices, it will be difficult for farmers. If they are paid at least K600,000 for 100 baskets, I think it will be easy for them to repay their agricultural loans." 
Farmers can borrow for up to 10 acres of paddy at K150,000 per acre. The loans are disbursed in June and must be repaid in February of the following year, at an interest rate of 5%. 
U Aye Thein, manager of the Arakan State branch office of Myanmar Agricultural Development Bank, said: "The loan is disbursed to the farmers who settled last year's loan." 
Many farmers from villages located in upper Kyauktaw Township could not repay their previous year's loan and were not eligible for additional disbursement this year as a result. 
The Arakan Farmers' Union has said it will intervene between the government and farmers to secure a fair price for the latter. 
Daw Mya Yi Win, a resident of Sar Pyin village in Taungup Township, said some paddy fields' yields were lower this year as fertiliser could not be used as liberally due to its increased price. Mother Nature also presents perennial challenges, she added. 
"My paddy field was covered with mud due to flooding this year. So, the paddy yield is lower than last year," she said. 
A total of 12,800 acres of paddy were destroyed due to flooding this year, according to the Arakan Farmers' Union, though the Arakan State military council has said only about 600 acres of paddy field were destroyed. 
Paddy could not be grown on more than 50,000 acres of farmland in 2019 and more than 100,000 acres in 2020 due to armed conflict in Arakan State.