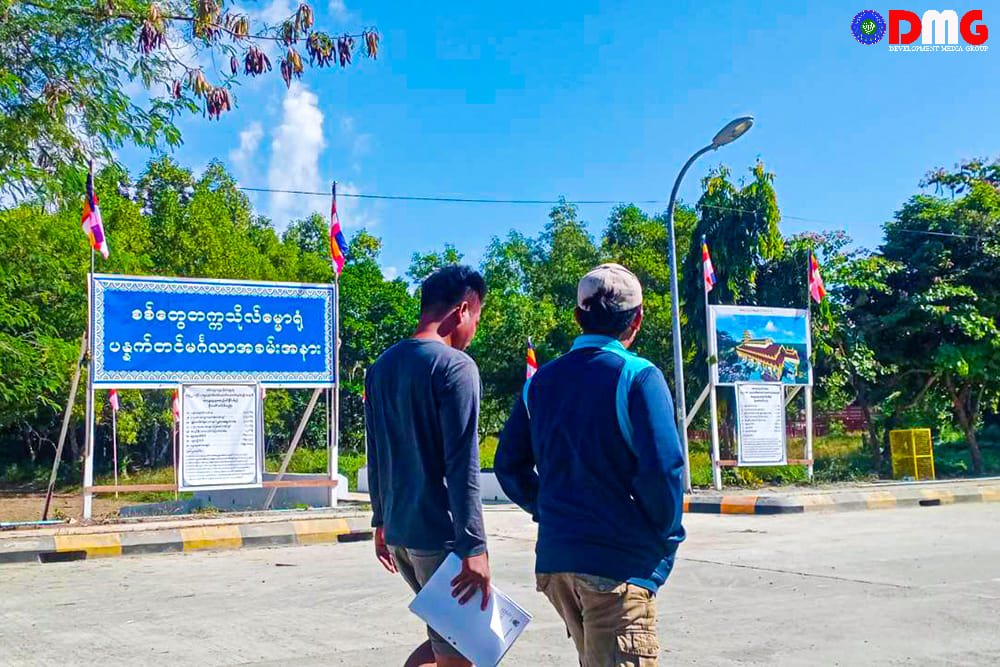 DMG Newsroom
25 November 2021, Sittwe 
The planned construction of a Buddhist religious edifice, known as a dhammayon, on the Sittwe University campus is being criticised by some students as an affront to the values of religious pluralism.  
Despite the protestation, the construction of the religious edifice in the Arakan State capital will continue, a university official said. 
Attempts to build a religious edifice at Sittwe University began in 2017 but were delayed due to student protests, said U Kyaw Naing Oo, head of the training department at Sittwe University. 
"The construction project was delayed due to student protests. However, the Buddhist monks said that such a religious edifice should be built in the compound of the University of Sittwe. This is the reason why we greenlighted the construction of the religious edifice. Some students did not like the idea because there are people of other religions," he said. 
"Other students who practice other religions are also attending Sittwe University, so they don't want to cause religious conflict," confirmed Ko Phone Pyae Phyo, an information in-charge of the Arakan Students' Union. 
Faculty members at Sittwe University are reportedly leading construction efforts. 
Dr. Aung Kyaw Min, chairman of the Arakan State Administration Council, said he would not object to the religious edifice on the University of Sittwe campus. 
"Faculty members and alumni came up with plans to build a religious building. We have no objection and have not said that such things should not be done religiously. We have no reason to object to plans to build religious buildings at universities and schools on a self-reliant basis," he said. 
"The construction of a religious edifice on the university campus is seen as religiously repressive and in defiance of student protests," countered Ko Toe Toe Aung, former chairman of the Arakan Students' Union. "It is time for the Arakan community to move toward a better future. We see this kind of discrimination as creating problems between the different ethnic groups and students' unions." 
The religious edifice will reportedly be built at a cost of K300 million, and donations totalling K100 million have been collected so far. Contributions have come from university faculty members and well-wishers. 
According to Sittwe University officials, the religious edifice is expected to be completed in two to three years. 
There are also reports that a religious edifice will be built at Taungup Degree College in Taungup, Arakan State. 
Ko Thaw Zin Tun, chairman of the students' union at Taungup Degree College, said that since the military council was currently in power, there would be no response at this time.