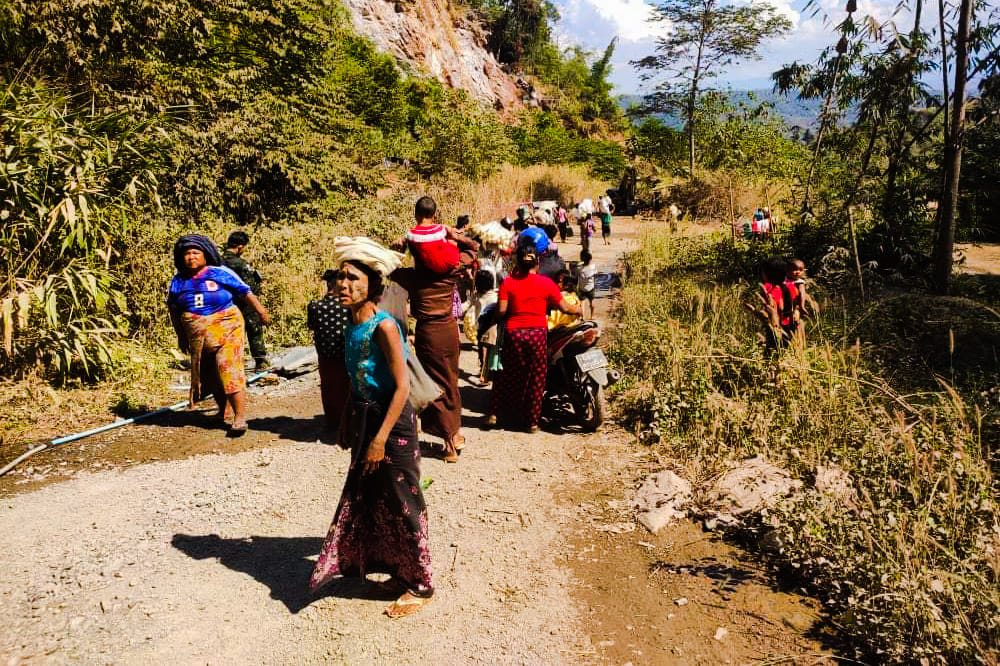 DMG Newsroom
28 December 2021, Myawady, Kayin State 
As fighting between Myanmar's military and the Karen National Liberation Army (KNLA) continued over the Christmas weekend in and around Lay Kay Kaw town and Mae Htaw Tha Lay village in Kayin State, more than 1,000 civilians are still stranded along the Thai-Myanmar border and thousands more have crossed into Thailand, according to aid workers. 
Many residents of Myawaddy Township villages such as Lay Kay Kaw, Phalulay, Phalugyi, Rathegu and Mae Htaw Tha Lay have fled to Mae Sot, Thailand, and some are living along the Thaungyin (Moei) River near the border, a refugee activist told DMG. 
"Many people displaced by the fighting are taking refuge at an IDP camp in Mae Sot, Thailand. Displaced people are in need of relief supplies but some people including children and pregnant women are sheltering along the Thaungyin River," the aid worker added. "There are those who have not been able to get help because of the lack of support for the IDPs. The displaced people are in urgent need of clothing, food and shelter." 
Many IDPs taking shelter along the Myanmar-Thai border are residents of Phalulay and Rathegu villages. 
Fighting between the Myanmar military and a joint force of KNLA, People's Defence Force (PDF) and Democratic Karen Benevolent Army (DKBA) troops has intensified since clashes were first reported on December 15. 
The Myanmar military has used helicopter gunships, according to sources on the ground, with heavy artillery fire also reported in Myawaddy Township. 
Ko A K Sai, an editor for the Federal Journal, was killed in an artillery strike on December 25, according to a source close to the victim. 
"Ko A K Sai was killed after being hit by an artillery shell fired by the Myanmar military while hiding in a school," the source added. 
At least five Myanmar IDPs were taken to Mae Sot Hospital after heavy artillery shells exploded at a refugee camp in Mae Sot. 
Following the Myanmar military's shelling, air and ground forces of the Royal Thai Army are patrolling along the border.