Arakan State-based Western News faces legal peril
U Hla Thein, a spokesperson for the Arakan State regime council, told journalists on January 3 that the military government plans to remove tricycles and other three-wheelers from the streets of the Arakan State capital Sittwe. 
05 Jan 2022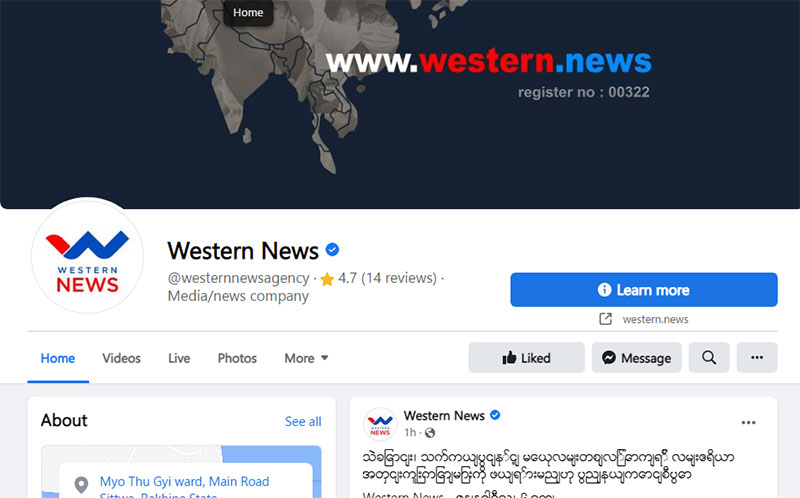 DMG newsroom
5 January 2022, Sittwe  
A lawsuit has been filed at the Sittwe District Court against the Arakan State-based media outlet Western News under Section 124(a) of the Penal Code, a provision on treason that carries with it a maximum sentence of 20 years in prison. 
"I heard a lawsuit has been opened against Western News at the Sittwe District Court under Section 124(a). I am not aware of the subject of the case and if it is filed against the name of a person or the media company by name,"  said U Hla Thein, a spokesperson for the Arakan State regime council who also serves as the state's attorney general. 
"In general, Western News reported a news story in Paletwa to shake people's trust in the military," the Arakan State military council spokesman added, speaking at a news conference on Tuesday. 
On December 28, Western News reported that a white flag was seen hoisted on a hill where a Myanmar military regiment has been stationed in Paletwa Township, Chin State. 
U Wunna Khwar Nyo, the founder and editor-in-chief of Western News, said the outlet has not been officially informed of the lawsuit and has not received any letter from the court. But that did not stop him from criticising the case reportedly being brought against his organisation.  
"It is unacceptable as a media company based in Arakan State has been charged under a major section [of the Penal Code]. We are covering news in line with media ethics," U Wunna Khwar Nyo said.   
"We report the news whether the Arakan Army or Myanmar military breaches human rights. We are never biased toward any organisation. We are facing a big challenge as a developing media outlet charged under a major section. It is relatively dangerous for the media." 
Western News reported on January 5 that it had postponed its "Letter program" due to security concerns following reports about its legal troubles. 
On December 19, police and soldiers searched the office of Western News in the Arakan State capital Sittwe. Some of the news outlet's reporters have since gone into hiding. 
A spokesman for Development Media Group (DMG) criticised the use of heavy-handed criminal statutes against media outlets such as Western News. 
U Myint Kyaw, a former member of the Myanmar Press Council, said he believed that before the filing of any lawsuit, the case should first be submitted for arbitration. 
"In fact, this issue must be resolved by the Myanmar Press Council first. If it cannot be resolved, it will be effective to sue. However, the junta-appointed Myanmar Press Council is acting in accordance with the military council," he told DMG.